The best areas of Miami are South Beach, Bel Harbour, and Downtown. Each one with a very different profile. In addition to these, there are others that are also a great choice. Read on and discover them.
First of all, you should know that Miami is divided into two main areas: Miami, which is the city itself and is located on the mainland, and Miami Beach, a group of islands located in front of Downtown Miami and connected by several bridges. Miami Beach is the best known and most tourist area and where South Beach is located.
Miami is an expensive destination that requires booking well in advance to find affordable prices. The most expensive months to stay in Miami are from January to April, coinciding with the busiest season for visitors; while from June to September you can find the best prices.
Even so, even in the low season, the constant influx of tourists makes it difficult to find lodging at a good price if you are short on time.
A stay in this North American city is not suitable for all budgets. The price of a double room in a decent but not luxurious hotel, located in a popular area is over 100 dollars a night.
To this price must be added 15% for taxes and fees, which are often not included in the price offered.
For tighter budgets, it is necessary to give up quality and location and opt for hostels, where you can find a bed in a shared room for 15 dollars.
Best places to stay in Miami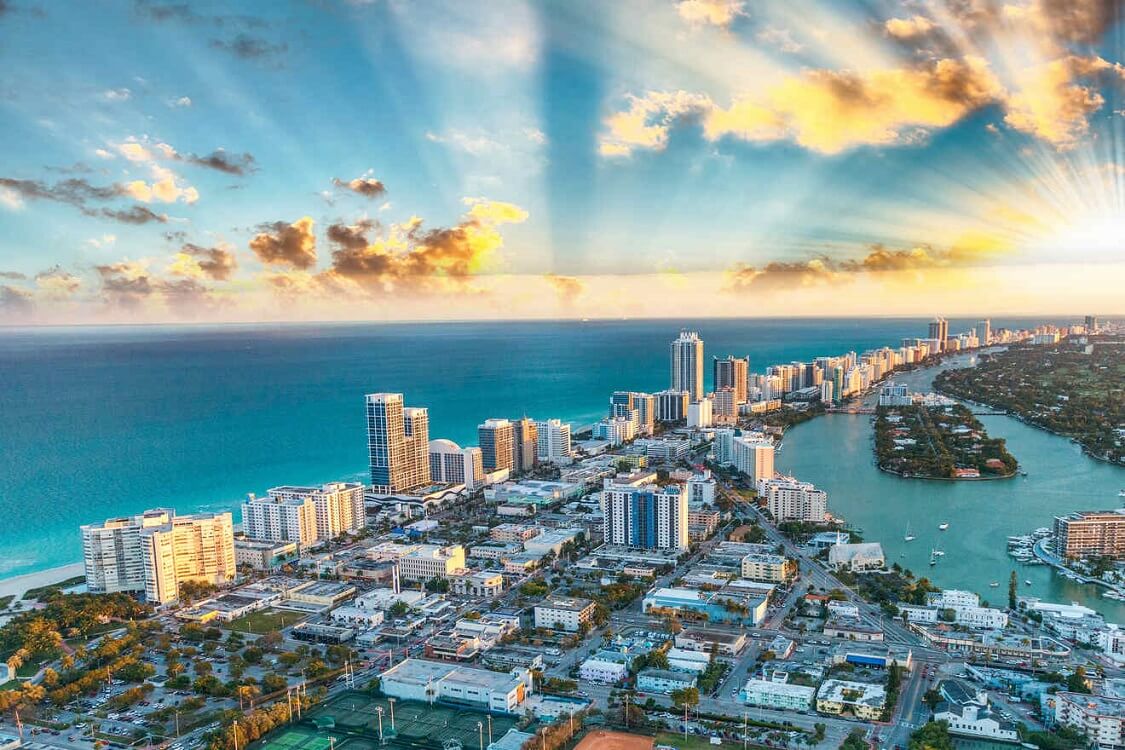 Miami is not a cheap destination, but it has a great variety of accommodations. Therefore, it is important to be clear about your budget in order to start looking for a hotel in the most suitable area.
You should keep in mind that it will be almost impossible to find accommodation for less than 60 dollars a night in South Beach while in Coral Gables you will be lucky to find a minimally decent hotel for that price.
If you are on a budget your choice has to be South Beach. It is the most interesting place without a doubt. The nearby areas like Bal Harbour and surroundings are also excellent alternatives to sleep in Miami.
If you can't find accommodation in Miami in this area look in the mainland neighborhoods starting with Downtown and continuing with the Design District and others that you will find explained below.
1. South Beach, the most popular area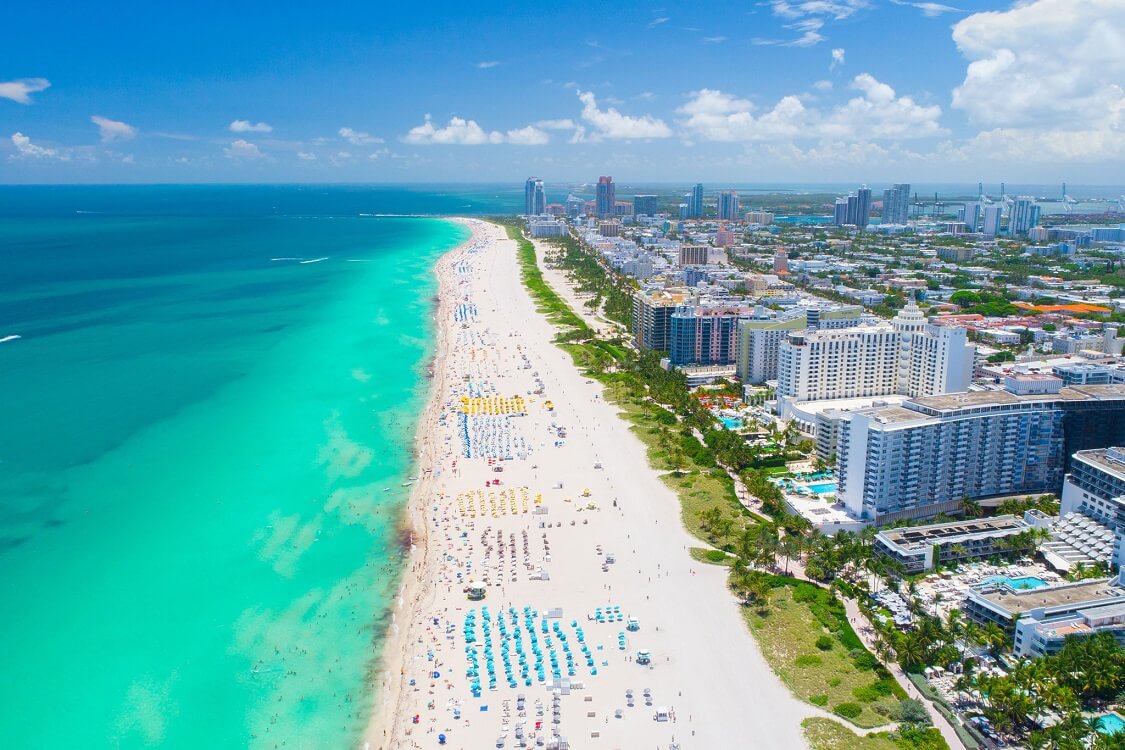 South Beach is located in front of Downtown across Biscayne Bay in the southern part of Miami Beach. This district is the image we all have of Miami thanks to TV series and movies.
It is the most interesting area, the most fashionable, and where the main tourist attractions of Miami are concentrated. It is undoubtedly where you would like to sleep in Miami if your budget can afford it.
Sin South Beach is the first place to look for your accommodation if you want to enjoy the beach, admire its Art Deco architecture, eat in modern restaurants, go on shopping marathons, party… you have it all!
It is a district at the forefront of everything, where there is an abundance of leisure activities: fashion boutiques, elegant restaurants, endless possibilities to practice sports, a very active cultural agenda, very exclusive bars, and nightclubs, etc. It is impossible to get bored in this area.
A typical day is spent enjoying the magnificent beach, playing volleyball on the sand, or hanging out in one of the trendy cafes on Ocean's Drive. At night, there is nothing like enjoying its lively atmosphere and meeting some of the most famous pubs in Miami such as Nikki Beach.
2. Bal Harbour, near South Beach, is very exclusive and quieter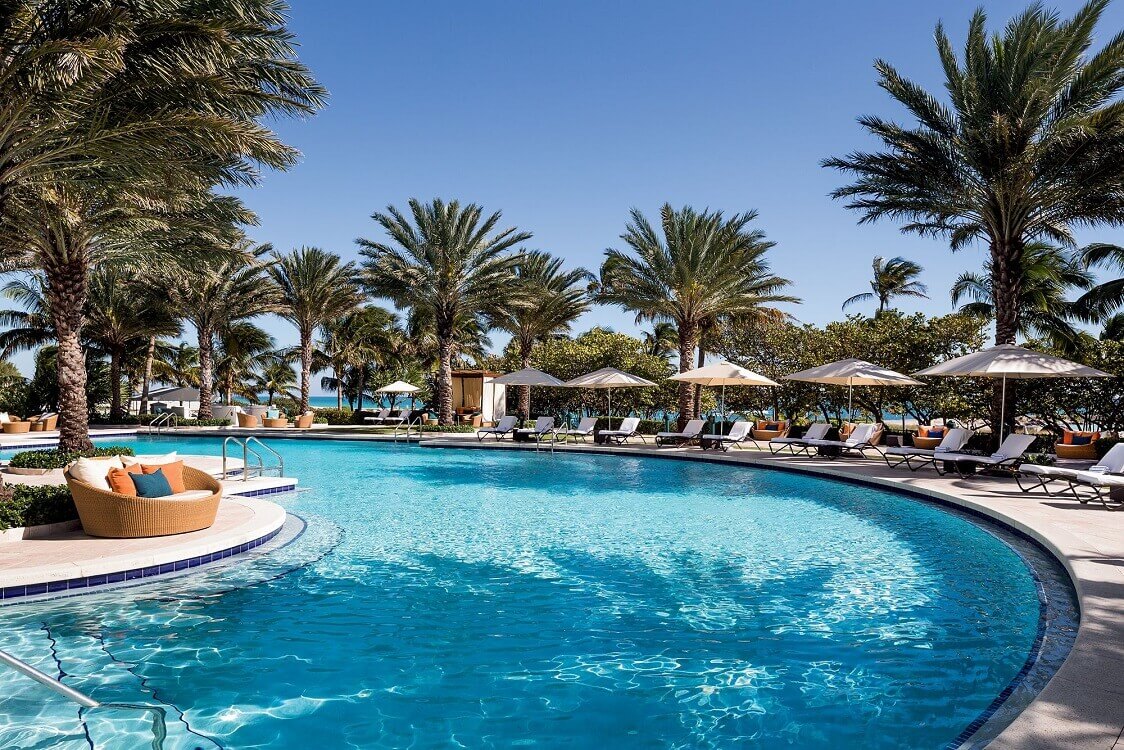 Located north of South Beach, the Bal Harbour area is distinguished for being a residential neighborhood of high purchasing power with a more relaxed atmosphere than its famous neighbor.
Bal Harbour allows you to enjoy uncrowded beaches, have some peace and quiet, and enjoy good restaurants of vanguard and exclusive and elegant stores. All this is near South Beach so if your budget can afford it is one of the best areas to stay in Miami.
In addition, its lodging offer is one of the most important in the city, offering all kinds of hotels, luxury apartments, and some motels.
A few years ago it was possible to find better prices than in South Beach, but now most of the budget hotels that were there before have been converted into luxury accommodations, leaving fewer and fewer options for the tightest pockets.
While in South Beach you can practically forget about finding cheap accommodation, in Bal Harbour and especially in the surrounding area it is still possible to find some affordable mid-range accommodation. Of course, it takes a lot of searching and time to find a room at an average price.
3. Key Biscayne, to sleep in Miami in an elitist zone
Looking for luxury and exclusivity during your stay in Miami? The small island of Key Biscayne is what you are looking for. Located south of Miami Beach off the coast of Coconut Grove, this enclave is one of the most elite places in Miami, where you can find houses and mansions for vacation rentals with exorbitant prices due to its privileged location.
This small forest island offers its inhabitants fantastic views of the city and excellent beaches almost untouched by tourists, as well as lush forests where you can enjoy a picnic or other outdoor activities.
If you choose one of its few super luxury resorts to sleep in Miami you will have the best possible tennis courts, golf courses, and the best restaurants in town. The hotel offer is very limited and is only suitable for premium budgets.
4. Downtown, central, and well connected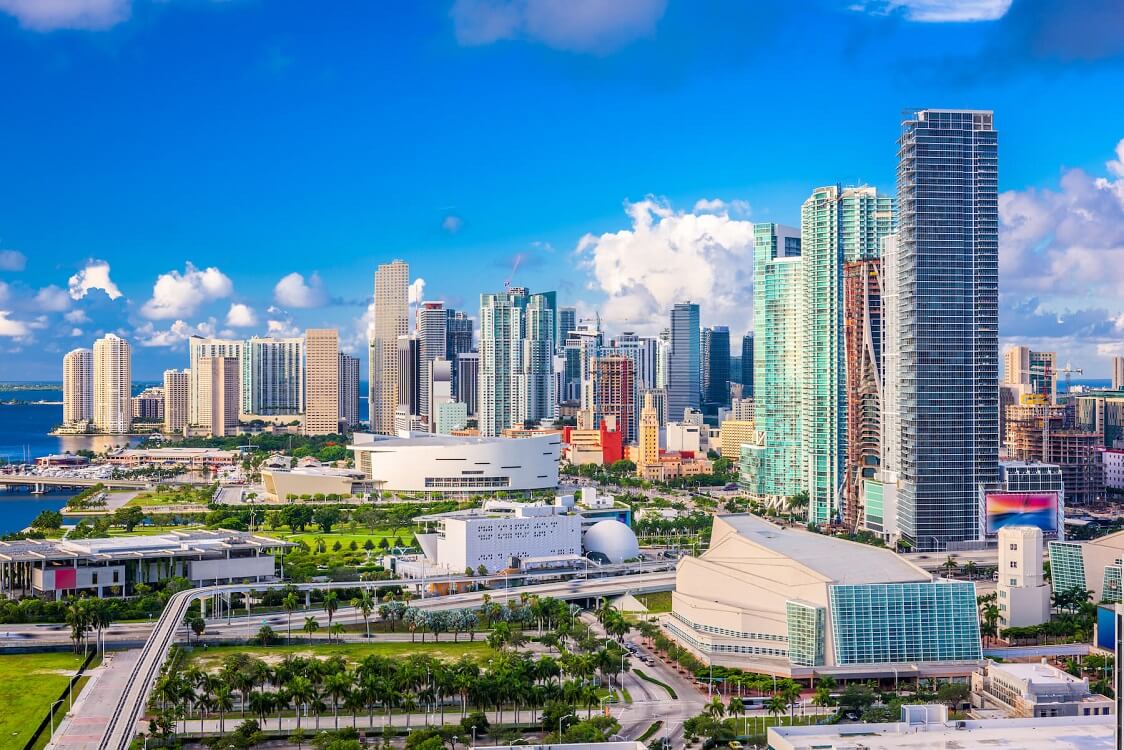 Downtown Miami is located in front of Biscayne Bay, west of the busy neighborhood of South Beach. It is a business area, very commercial, with many museums, and has a lot of life during the day, while at night, when the offices close, it becomes too quiet.
During daylight hours Downtown is full of tourists who visit its many tourist attractions such as the Bayside Marketplace, the Miami Art Museum, and the Miami Heat stadium among others.
However, it is not a recommended area to walk around at night (not that it is very unsafe but you have to be careful) with the small exception of the area around NE 11th Street. There you will find a nightlife that is quite good.
Don't be scared of the latter, Downtown is not a bad option to stay in Miami, far from it. It is a very practical area that in addition to concentrating on some of the tourist interests of Miami, is very well connected to other popular areas of the city. In addition, it has much more affordable prices than its neighbor South Beach.
5. Little Havana, to enjoy the Cuban and Latin atmosphere
You arrive in Little Havana and you have the feeling that you have traveled to another country: its noises, flavors, rhythms, and people will transport you to the Cuban capital. It is ideal to immerse yourself in Cuban culture without setting foot in Cuba.
Head to Calle Ocho, where you can visit the stores, cafes, tailor shops, restaurants, and cigar shops to buy products from the old capital, with salsa and merengue as background music playing in every corner of the neighborhood.
By day it is an incredible place that you should not miss, but at night it is advisable not to go through its streets unless you are accompanied by a local who knows the area well.
At night it has security problems and its scarce lodging options do not make it a recommended neighborhood to stay in Miami.
6. Wynwood and the Design District, to stay in Miami in a bohemian and creative area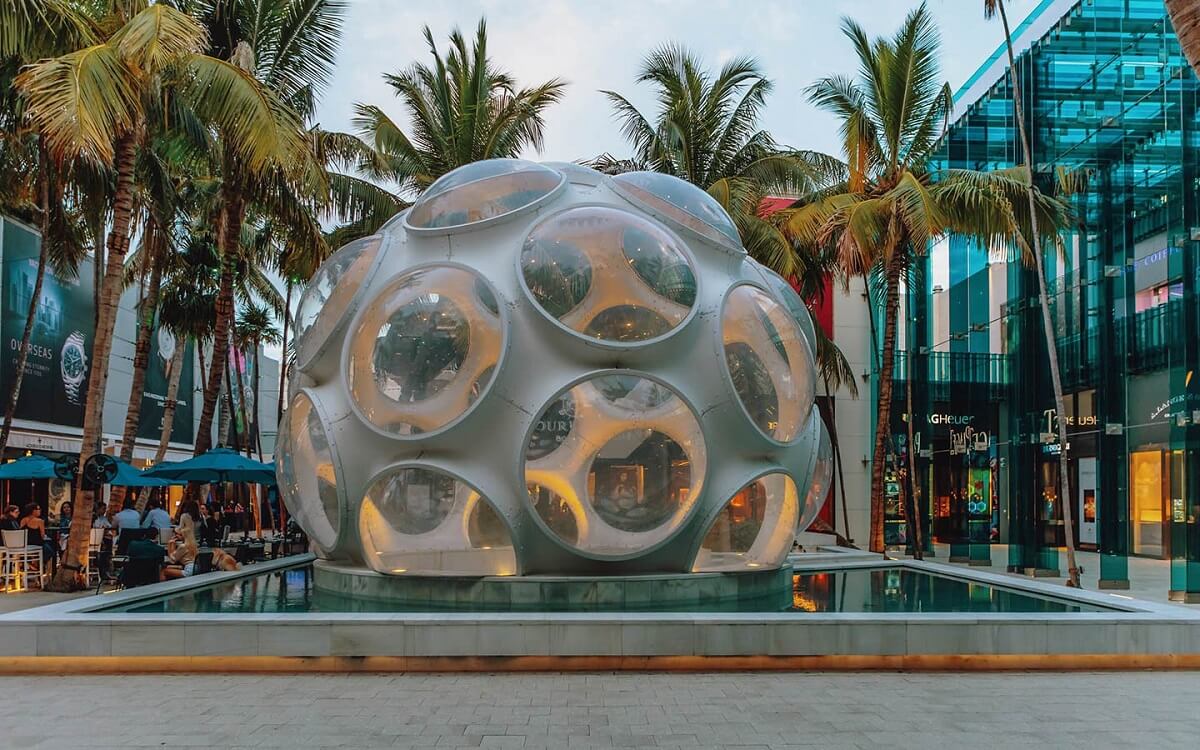 The Wynwood neighborhood has among its streets the popular Design District, a very popular area among tourists and locals. Many companies related to art, decoration, and design have settled in this area offering the most modern and creative face of Miami.
In addition to the art and sophistication of the Design District, another of its magnets of attraction is its nightlife. You can enjoy bars, nightclubs, and restaurants that attract a very hipster and cosmopolitan population.
The lodging offered in Wynwood is not one of the widest in the city, but it does offer more competitive prices than other popular tourist neighborhoods.
You won't have to worry as much about your budget as in other areas as long as you book in advance, especially if you want to stay in the Design District. It is an interesting alternative to Downtown and South Beach for sleeping in Miami.
7. Coral Gables, lodging in Miami with a good quality-price ratio
Located between Downtown and Coconut Grove is one of the least known areas among tourists: Coral Gables. Created in the 20s, this neighborhood has a marked Mediterranean spirit, something you will notice in its architecture and strolling through its tree-lined streets and squares with central fountains.
You will not find the same level of tourist attractions as other areas such as South Beach, but you will find an interesting view of the city outside of the more touristic and well-known Miami.
Coral Gables is not a common area among tourists, however, it offers very good hotels with good value for money, restaurants led by top international chefs, and luxurious stores that could compete perfectly with those of Bal Harbour.
It is an ideal lodging option for those seeking affordable luxury and tranquility.
8. Coconut Grove, staying in Miami in one of the neighborhoods with the most cultural and leisure offer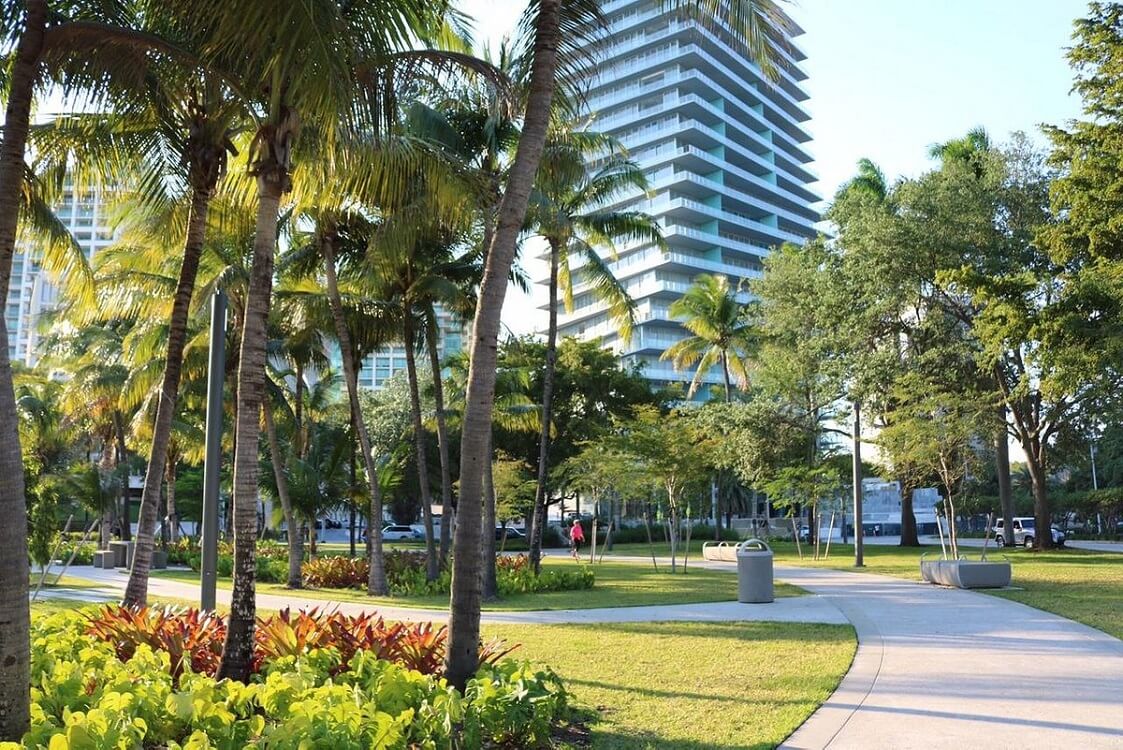 The Coconut Grove neighborhood is characterized by its endless leisure offer, which attracts both locals and tourists. Neighborhood festivals, terraces, open-air concerts, art museums, cultural exhibitions, and an almost endless calendar of events.
In addition, in Coconut Grove you can enjoy a wide variety of bars and restaurants; but also shopping and leisure areas such as CocoWalk.
The hotel offered in Coconut Grove is not one of the most varied in the city but it is perfect for middle-class visitors who want to enjoy a modern Miami but without stridency.
Hotel prices are around 100 euros per night, although you can get better deals if you book a little in advance.
9. North Miami Beach, cheap lodging in Miami
On the mainland is located in the neighborhood of North Miami Beach and more specifically the Aventura area, an elegant residential neighborhood that mixes apartment buildings with family homes.
Although this neighborhood does not have the tourist attractions of South Beach or downtown Miami, it has shopping malls, golf courses, and restaurants of all kinds.
The hotel offered in North Miami Beach is not as large as in other areas, however, it is one of the most recommended for those tourists who do not want to spend too much on lodging.
It has the lowest prices in the city (at least of the areas that can be recommended to stay in Miami) and respectable quality thanks to the offer of 3-star hotels.
Last Updated on January 26, 2023 by Viktoria