Miami is one of the best cities in the world, which is a favorite vacation spot for both ordinary people and celebrities. Its developed tourist infrastructure and a huge number of attractions, of course, can not leave anyone indifferent. Numerous parks and research centers, the best sandy beaches, busy nightlife, the famous Art Deco district, luxury restaurants and boutiques, shopping centers and historical sites – that's what Miami is all about. Experienced guides and tour guides will be happy to lead an entertaining tour, during which you can learn many interesting facts and fall in love with this wonderful city. When it comes to excursions and here Miami is incomparable, as it can offer its guests both walking and water educational walks. An overview of the best water excursions in Miami is provided below.
Best Water Excursions in Miami
Millionaire's Row Cruise
Miami Skyline Cruise
Bayside Blaster
Jet Boat Miami
Fishing Cruises
Dance Cruise
Speedboat Rides
Miami River Cruises
Stiltsville Cruises
Sunset Cruises
Millionaire's Row Cruise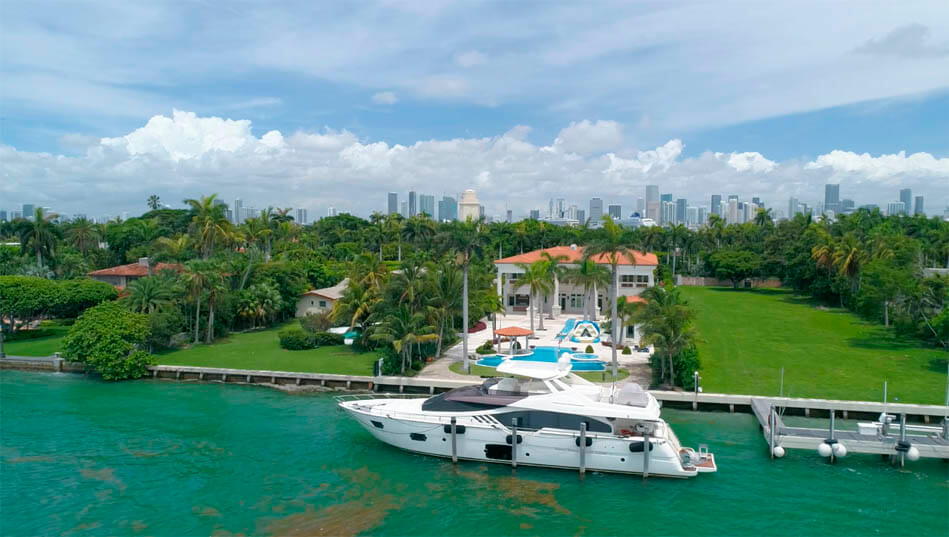 Relax and unwind on an unforgettable cruise along the exquisite Biscayne Bay. This bilingual excursion takes you to the best of Miami's spectacular waterfront, including its beautiful skyline, Port of Miami, Fisher Island, Miami Beach and "Millionaire's Row," the mansions of the rich and famous. Drinks and light meals are available aboard the boat during this 90-minute voyage. Modern yachts such as the Island Queen, Island Lady and Miami Lady, with a capacity of up to 140 passengers, offer their visitors the ultimate in comfort and style. Each air-conditioned vessel is equipped with a lower saloon with Venetian-style windows and an upper deck where you can feel the fresh ocean breeze or sit under a tent that will protect you from direct sunlight and seasonal showers.
To purchase boarding passes you must go to the ticket counter at least 30 minutes before departure. The ticket office is located next to the music stage in the Bayside Marketplace, whose main entrance overlooks the water. Millionaire's Row Cruise departs from downtown, next to Tradewinds Bar and Grill at 401 Biscayne Boulevard.
Departure times are 10:30 am, 11:00 am, 12:00 pm, 1:00 pm, 2:00 pm, 3:00 pm, 4:00 pm, 5:00 pm, 6:00 pm and 7:00 pm.
Miami Skyline Cruise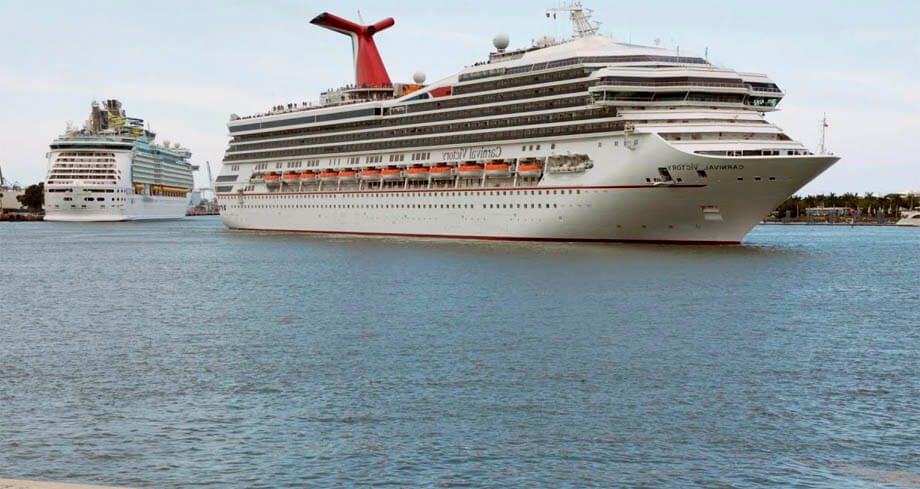 This newest water excursion called the Miami Skyline Cruise will give you an overview of the city's stunning skyline views. During this cruise you will see countless condominiums built into the sky, towering office buildings on Brickell, growing hotels and other architectural structures. The second part of this tour will take you through the winding Miami River, allowing you to see the unusual mix and intertwining of new and old city. For example, you will see the old Miami Circle built by the Tequesta Indians surrounded by impressive new buildings that are only 5 years old. In the heart of the financial district you will see the Brickell Avenue Bridge and countless thriving businesses, restaurants and stores. The Miami River is truly a gem that captures the vibe of old and new Miami.
The Miami Skyline cruise includes a limited narrative: key historical facts, important buildings and structures, and is geared toward those who want to relax on the water. The excursion is 45 minutes and takes place on the Beach Lady, which is ideal for navigating under bridges. Light meals and drinks are available on board.
Cruise times are 6:15pm, 7:30pm, 8:45pm and 10:00pm. Departures are Saturday only!
Bayside Blaster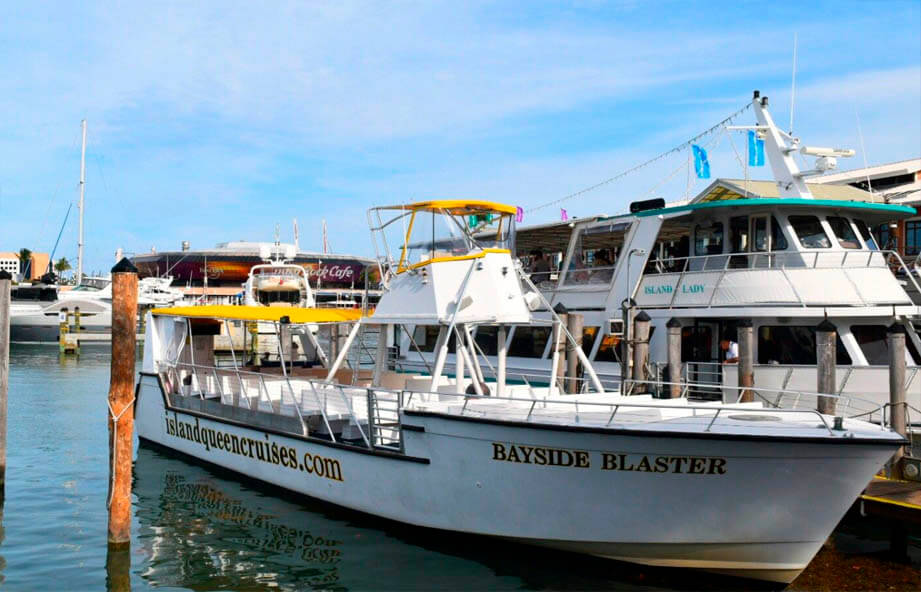 Don't miss the best cruise in all of South Florida aboard the Bayside Blaster. Enjoy an interesting bilingual ride along beautiful Biscayne Bay and take in the spectacular coastal sections of Miami, including its wonderful skyline views, Port of Miami, Fisher Island, Miami Beach and "Millionaire's Row"-the lodging of the rich and famous. Drinks and light snacks are available for purchase on board during the entire hour-and-a-half cruise. Boarding tickets must be purchased at least half an hour before the ship departs. A ticket booth is located near the music stage in the Bayside Marketplace.
Departure times (Sat-Suns only) are 11:30am, 1:30pm, 3:30pm, and 5:30pm.
Jet Boat Miami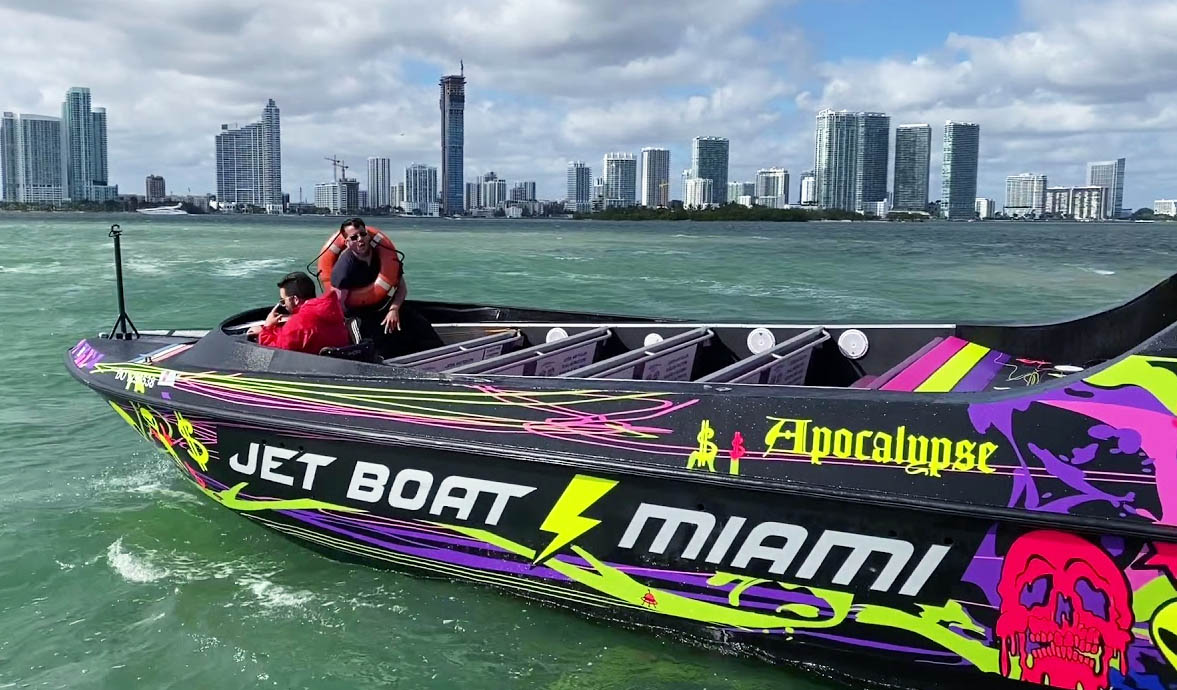 The Jet Boat Miami high-speed cruise offers visitors a trip full of adrenaline and unforgettable emotions. Departing from Sea Isle Marina, the ship will take you to the San Marco and Memorial Islands, where you'll get a visual look at the homes of the rich and famous. Experienced captains soar confidently through the waters, breaking 360-degree turns. If you feel you need more adrenaline, tell that to the boat manager, he'll be sure to give you an extra set of turns before you arrive.
Departure times are Monday – Thursday 11am, 1pm, 3pm, and 5pm. Friday – Sunday: every hour from 11am to 6pm. Itinerary and duration varies depending on weather conditions.
Fishing Cruises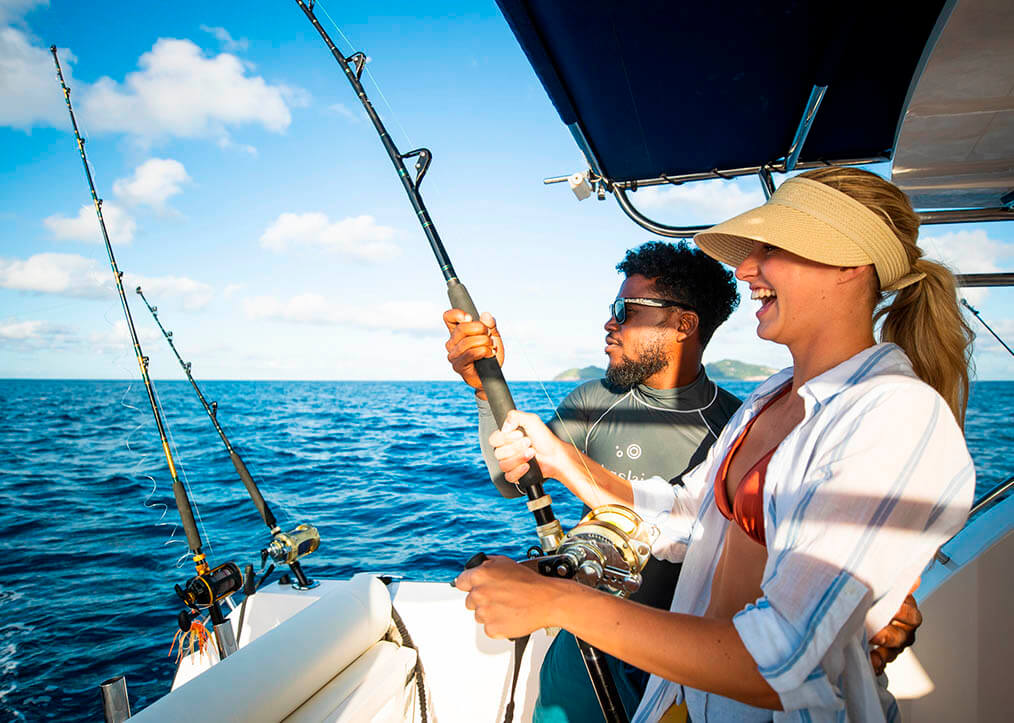 Spend a fun day fishing in beautiful waters overlooking Florida's spectacular coastline. Cruise fees include bait, gear, rods, reels, and all fishing licenses. Fishing Cruises' fishing boats leave for the high seas three times a day at 9:00 a.m., 1:45 p.m. and 8 p.m., with a trip duration of about 4 hours. The boat captains all grew up in Miami and have extensive knowledge of fishing in local waters. They pride themselves on their catching abilities to help novice and inexperienced anglers.
Fishing Cruises provides two fishing boats called Reward Won and Another Reward. Their newest boat, Another Reward, is 21 meters long and 6 meters wide and can hold up to 100 anglers. This air-conditioned vessel has a galley, TV, music center, overhead viewing deck, and is equipped with all the latest fishing gear.
Departure times are 9:00 am and 1:45 pm.
Dance Cruise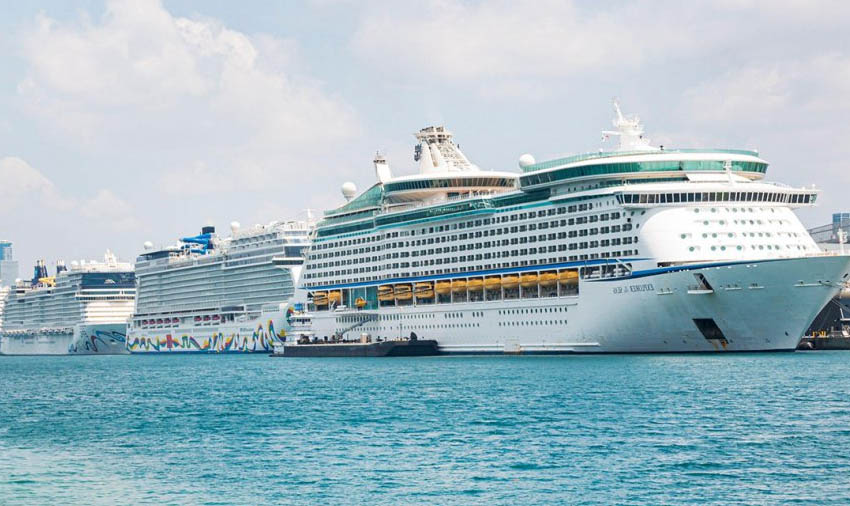 One of the best places in Miami to dance the night away against the Biscayne Bay sunset is the Dance Cruise. Its dance ships depart weekly Friday through Sunday from 9 to 10 p.m. from the main entrance of Bayside Marketplace.
The cruise is 90 minutes in length. A professional DJ on each Dance Cruise ship broadcasts the latest dance club hits that are suitable for all ages and accommodate everyone's musical preferences. Their regular rotation includes a variety of dance music genres. Each ship has a full bar that offers beer, wine, premium drinks, soft drinks, chips, snacks and popcorn. Dinner is not available.
You can get on the Dance Cruise at any age and even those under 21. The capacity of the ships is 140 passengers. The dance floor is on the second floor. The lower deck is fully air-conditioned and enclosed.
Departure times: Friday through Sunday 9:00 pm, 10:00 pm (optional), 11:00 pm (optional), 12:00 am (optional).
Speedboat Rides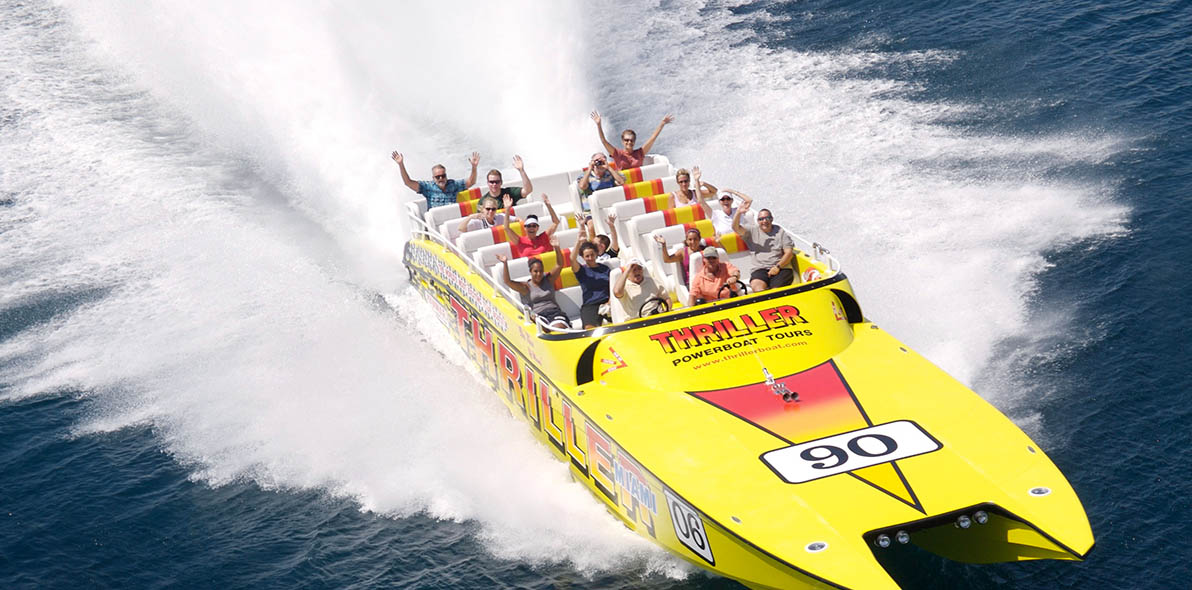 Enjoy a wonderful tour aboard the Thriller Speedboat, the fastest speedboat in South Florida. This only high-speed boat tour lasts 45 minutes and takes you along the Miami shoreline at 80 km per hour. The trip includes visits to Biscayne Bay, Key Biscayne, Coconut Grove, Fisher Island, and the Miami Beach coastline.
Departure times are daily 11:00 am, 12:30 pm, 2:00 pm, 3:30 pm and 5:00 pm.
Miami River Cruises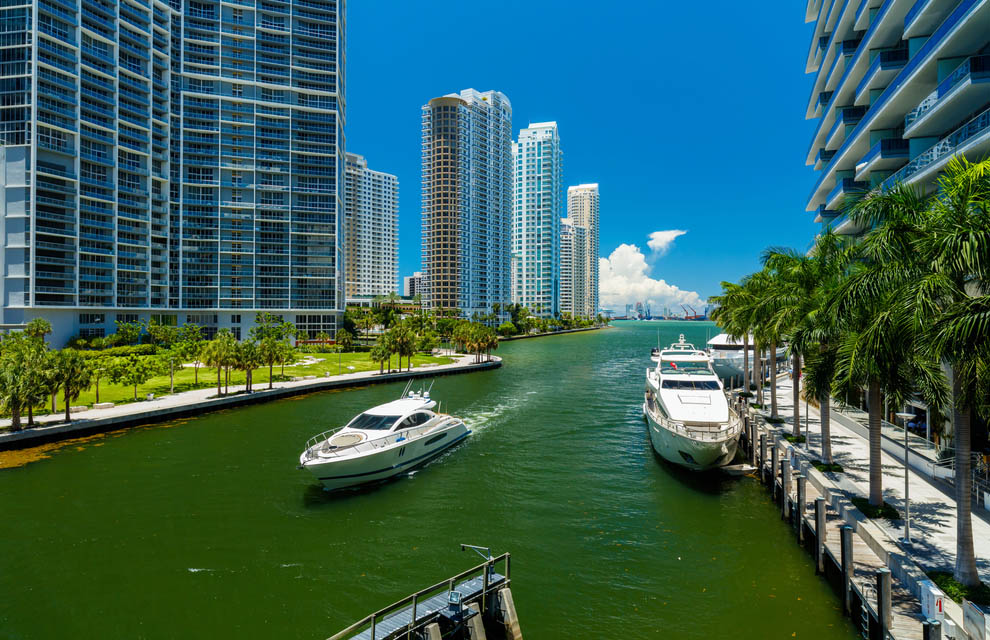 Miami River Cruises offers an unforgettable experience with HistoryMiami, including Tequesta Indians, Julia Tuttle, Henry Flagler and Miami Circle. You'll learn about the entire history of the Miami River and watch it undergo a complete transformation as dozens of modern condos, hotels and buildings grow on its banks. Ultra-fashionable boats like the Island Queen, Island Lady and Pink Lady offer the ultimate in convenience and luxury for 140 travelers. Each vessel, features air conditioning, a lower saloon with Venetian-style windows, and an upper deck where you can feel the fresh ocean breeze or hide under an awning from direct sunlight or seasonal downpours. Don't forget to purchase your favorite drink, cocktail or snack at the contemporary onboard bar.
Landing time: 8:45 to 9:00 am.
Cruising time: 9:00 a.m. to 11:30 a.m.
Stiltsville Cruises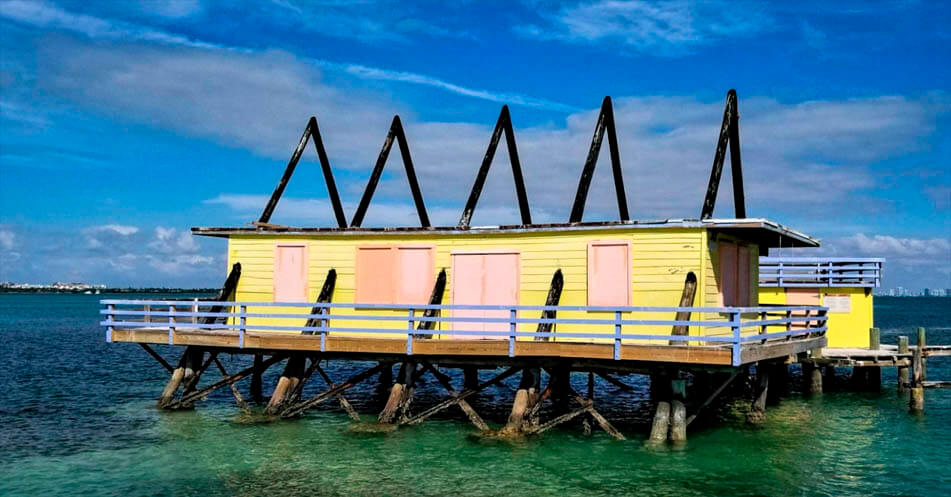 Island Queen Cruise's and HistoryMiami offer a boat tour that includes Stiltsville, Cape Florida Lighthouse & Key Biscayne. This 3-hour tour, which departs from Bayside Marketplace, is accompanied by Dr. Paul George himself, who explains Miami's past and present in detail. Throughout the tour, Dr. Paul George tells passengers a bunch of historical facts about Key Biscayne and the surrounding areas. His wealth of knowledge is evident and his enthusiasm is relentless. You will enjoy stories about Mary Brickell, Henry Flagler and other Miami pioneers. You will learn about homes formerly owned by President Nixon, Sylvester Stallone and other celebrities. The highlight of this tour is a visit to Stiltsville, a group of homes built on stilts in the middle of Key Biscayne National Park. These homes have a wild history of gambling and intense partying during Prohibition. At its peak of popularity during the '50s and '60s, Stiltsville consisted of twenty-seven houses. Nowadays there are only seven left.
The boats have two levels, the lower level is fenced and air-conditioned, the upper level is outdoors with a canopy to protect passengers from direct sunlight or downpours.
Landing time: 8:45 to 9:00 am.
Cruising time: 9:00 am to 11:30 am.
Sunset Cruises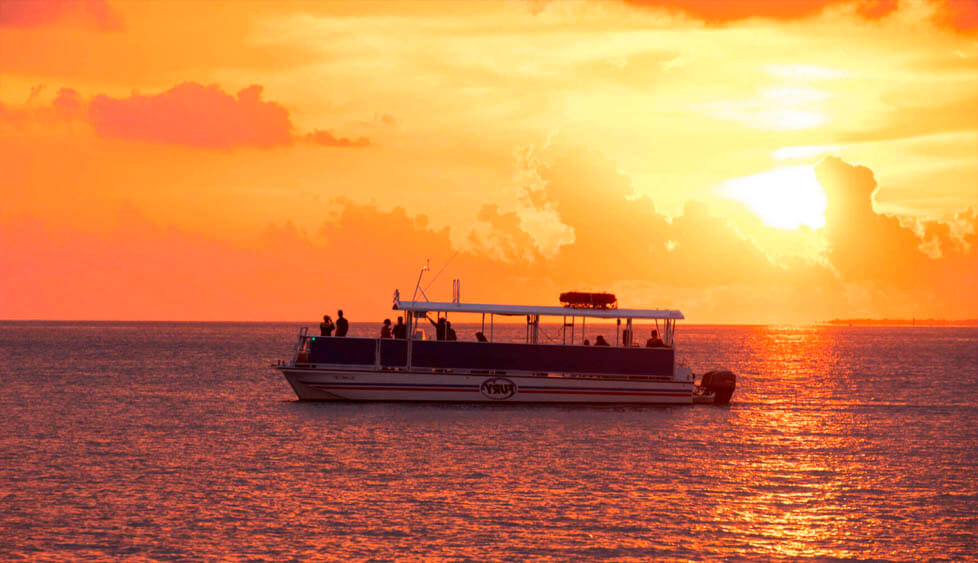 Explore the pristine waters of Biscayne Bay on a personalized adventure boat that accommodates a small group of people. This 12-meter catamaran allows guests to enjoy an intimate setting while learning many interesting facts about Miami. A partial BC cover and openings on all sides allow the ocean breeze to circulate freely. This tour is specially designed for people looking for a personal touch in everything. Sunset Cruises is the perfect way to end the day or start your nighttime adventure, which starts at Bayside Marketplace, passes through the Rickenbacker Causeway past the wonderful Downtown Miami Skyline.
Departure times are from 5:00 PM to 7:00 PM. This cruise leaves on Saturdays and Sundays only!
Last Updated on January 4, 2022 by Viktoria