The best restaurants in Miami for fine dining, trendy cafes, and affordable coffee shops.
Choosing a restaurant in Miami can be as difficult as finding the ideal place to park on the beach (and well, it's not so easy to decide which of all our amazing beaches to visit in Miami either). But that wasn't always the case. Just a decade ago, Miami's best restaurants used to be located in swanky hotel lobbies on South Beach. Today, Miami's best hotels still offer wonderful dining experiences, but fine dining has spread throughout the magical city, from trendy Wynwood to Brickell, and Little Havana and beyond. To learn about this new generation of Miami's best restaurants, you're in the right place.
Best Miami Restaurants
NIU Kitchen
Joe's Stone Crab
Ariete
KYU
La Mar
Macchialina
Mignonette
Ghee Indian Kitchen
27 Restaurant & Bar at Freehand
Alter
1. NIU Kitchen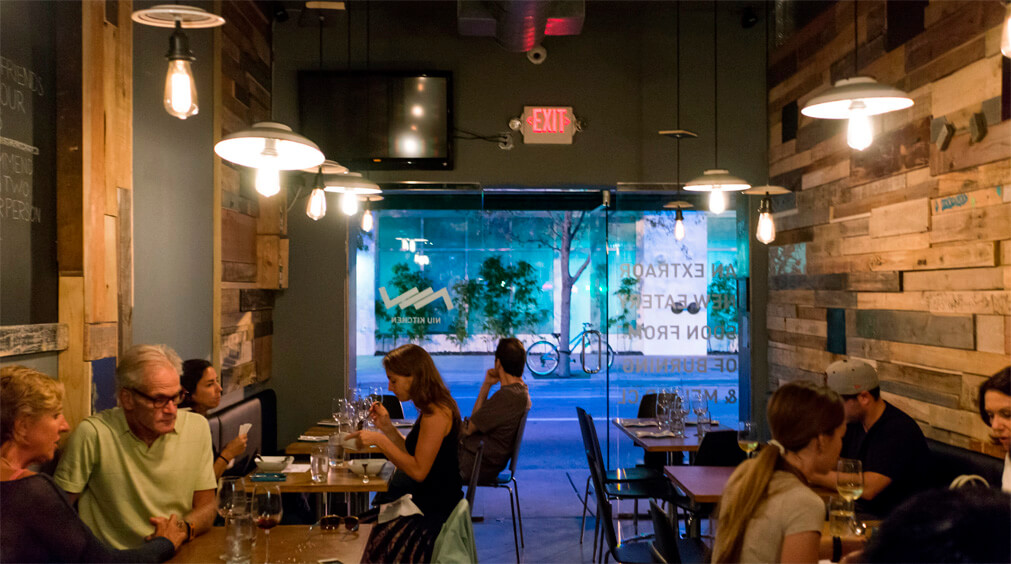 What is it? This cozy and trendy bistro serves the closest thing to authentic Catalan cuisine in Miami, even the names of the dishes are written in their original language.
When famous Spanish chefs Ferran Adrià and José Andrés were in town together, they dined at NIU Kitchen in downtown Miami. It's a small restaurant where guests can get the closest experience to Catalan cuisine in South Florida. The tapas are delicious, but if you're in the mood for seafood, the dinner menu has Arròs Caldós, or rice cooked in broth with fish. And no meal is complete without plenty of pa amb tomàquet, the traditional rustic bread with ripe tomatoes, olive oil, and salt.
Why go? Small and tucked away, this place offers a menu of dishes that can be shared, making NIU ideal for couples. You can share a delicious pa amb tomàquet (the traditional rustic bread with ripe tomatoes, olive oil, and salt), a bottle of good wine, and a creamy bowl of poached eggs, truffled potato foam, Iberian ham, and black truffle.
2. Joe's Stone Crab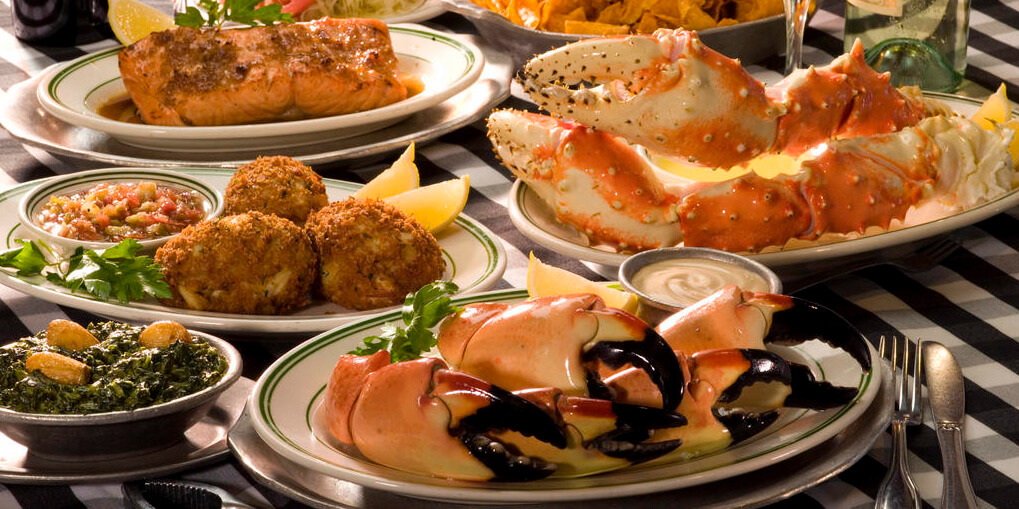 What is it? Opened in 1913, South Florida's most famous seafood restaurant is open October through May during crab season.
South Florida's most famous restaurant, Joe's (which turned 100 years old in 2013) is as much a Miami must-visit as Ocean Drive. It attracts locals, tourists, and celebrities, who go for seasonal crabs (October through May) with a "secret" sauce, garlic creamed spinach, fried sweet potatoes, coleslaw, and potato rosti. If you're not a seafood lover, try fried chicken or liver with onions. Joe's doesn't take reservations, so be prepared for a long wait, first to register your name, then to be assigned a table.
Why go? You've been waiting all year for Joe's namesake crustacean season, but so has the rest of the town, so line up and be prepared to wait with crowds of locals and tourists on the prowl for the freshest crab claws in town
3. Ariete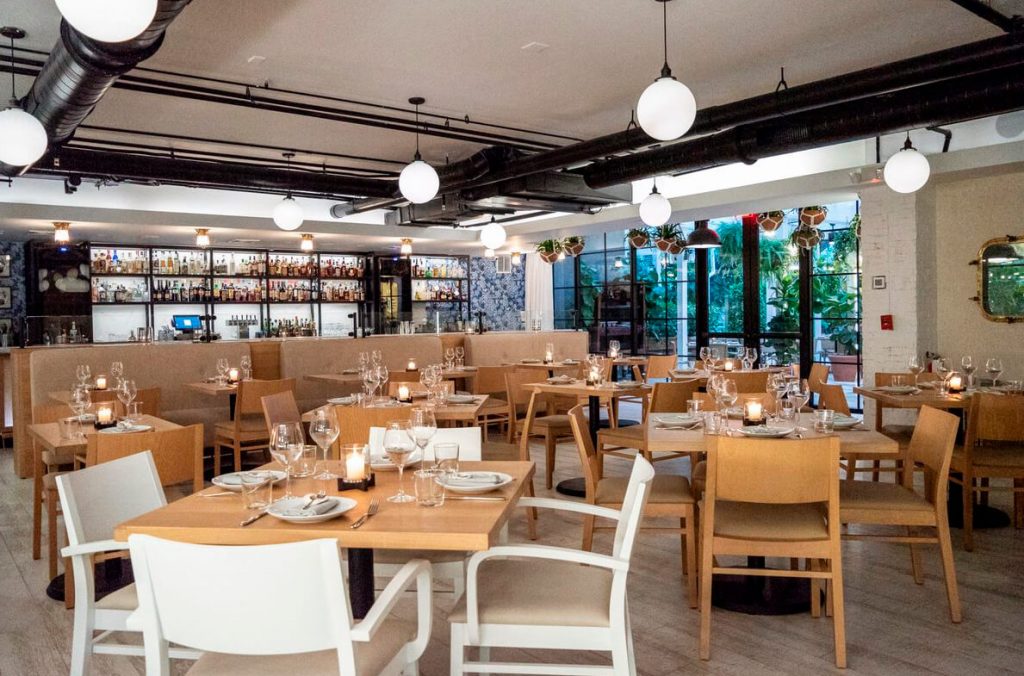 What is it? Half American, half Cuban, but completely Miami, this Coconut Grove restaurant makes elaborate dishes from scratch. Its elaborate subway-tiled floor, dim lighting, and open kitchen that remains quiet make for a casual, relaxed atmosphere.
Why go? Chef-owner Michael Beltran keeps things quirky enough in the best possible way. He puts head cheese on croquettes, mushrooms on flan, and foie gras on pastries. Humor him: this Cuban-born chef knows exactly what he's doing.
4. KYU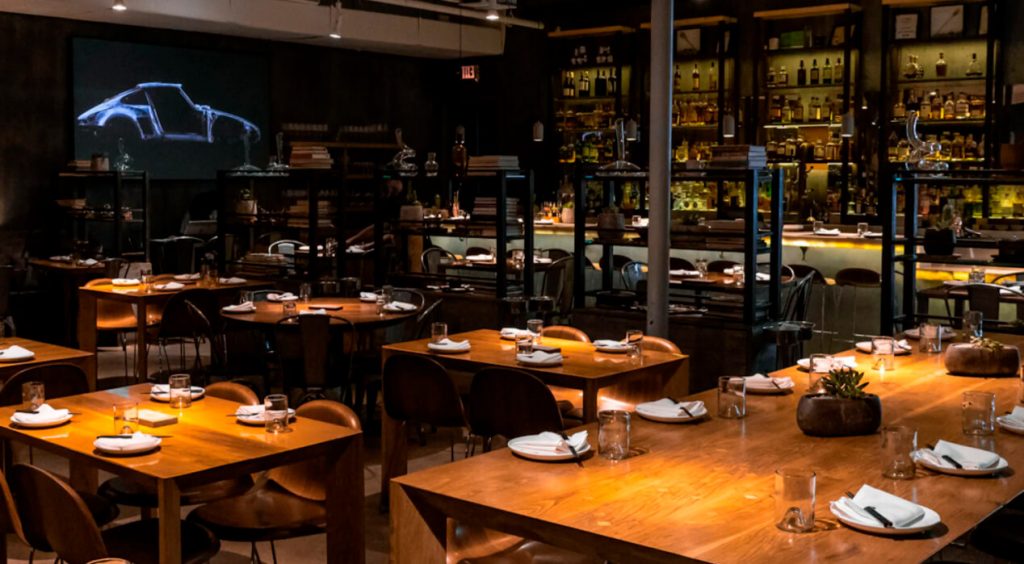 What is it? In just two years, this modern Asian restaurant earned a James Beard Award nomination, won the Time Out Bar Award, and established itself as one of the best restaurants in town, with the hardest reservation to get in Wynwood. Its airy, industrial-style dining room fits right in with the urban style of the neighborhood.
Why go? Chef Michael Lewis offers Asian comfort food and transforms classic dishes like pork buns, Korean-style fried chicken, and crab fried rice into delicious and visually appealing dishes. For every tree used on the wood-fired grill-for example, to grill the delicious wagyu short rib-the restaurant plants five more.
5. La Mar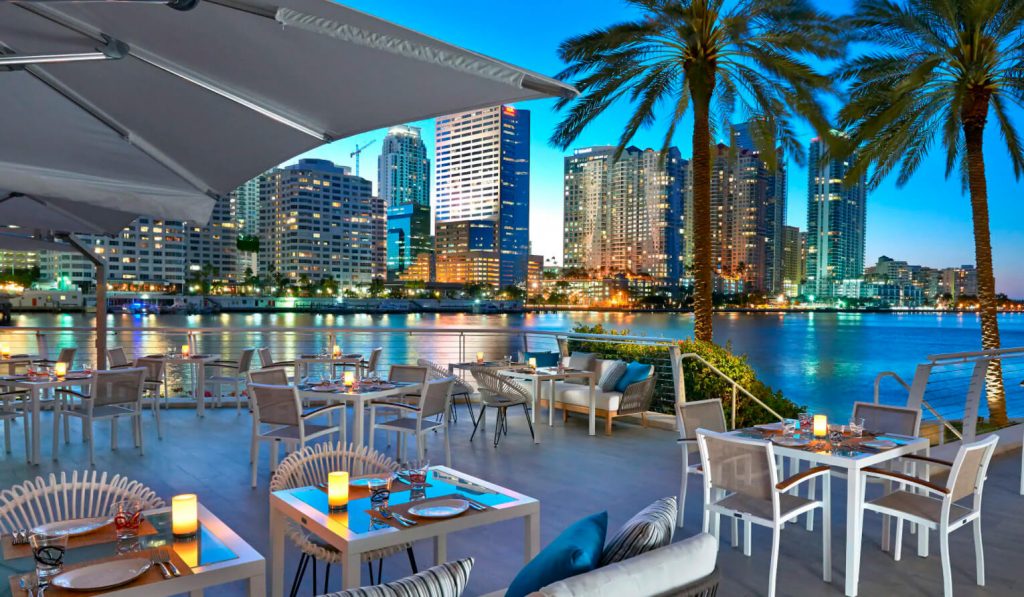 What is it? An inviting waterfront terrace and an irresistible Peruvian menu sum up what this famous Brickell Key restaurant is all about.
Why go? Talented chef Diego Oka has raised the profile of traditional Latin American cuisine with unexpected ingredients and combinations, like the original tiradito de backache: snapper delicately soaked in aged Parmesan cheese. We assure you: it works. Their brunch is an experience worth dedicating an entire afternoon to enjoy.
6. Macchialina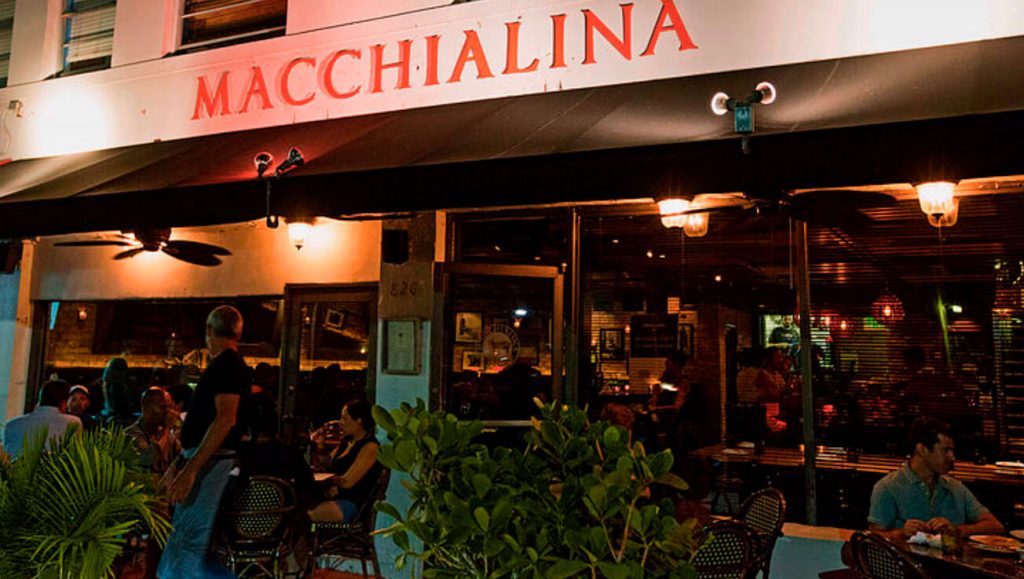 What is it? This offbeat, rustic, homey Italian restaurant is full of people looking to escape the craziness of South Beach. Fortunately, they've found a place to do so where the relaxed atmosphere is authentic and the food is also delicious.
Why go? The fresh homemade pasta, like the Cavatelli Macchialina in red sauce, is consistently listed as one of the best in town. Stop by the restaurant on Thursdays and try this and all the pasta dishes for $10.
7. Mignonette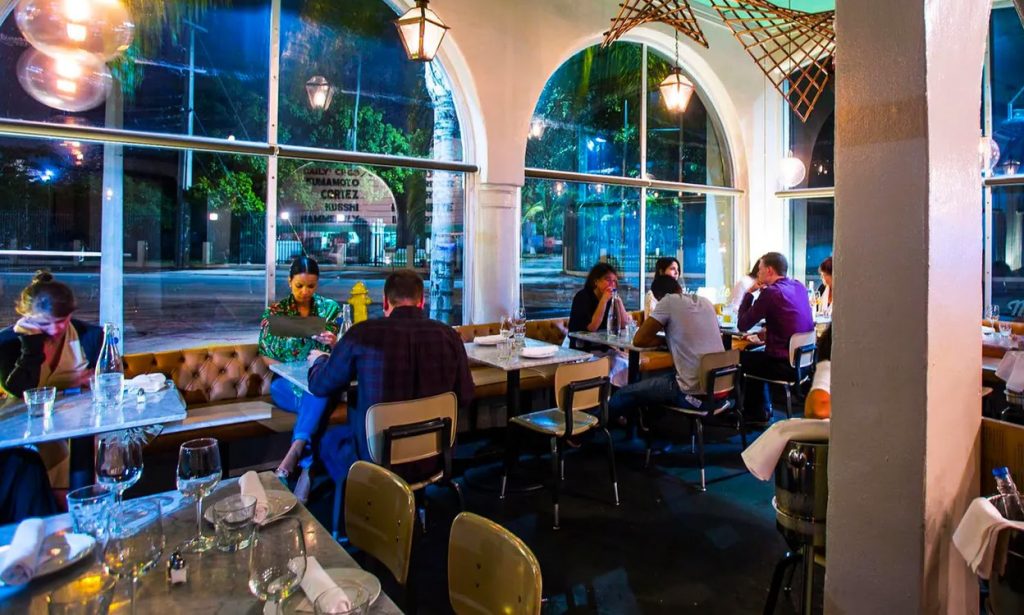 What is it? A casual seafood restaurant with a seafood vibe, serving Miami's best selection of oysters, Connecticut-style lobster rolls (buttered claws, but no mayo), and delicious bread pudding.
Why go? The old-fashioned chalkboard hanging over the kitchen lists the day's oysters. Generally, there are about eight varieties from the East and West, but you'll certainly prefer to ask your waiter to pick a dozen of your favorites. The staff here knows all about oysters.
8. Ghee Indian Kitchen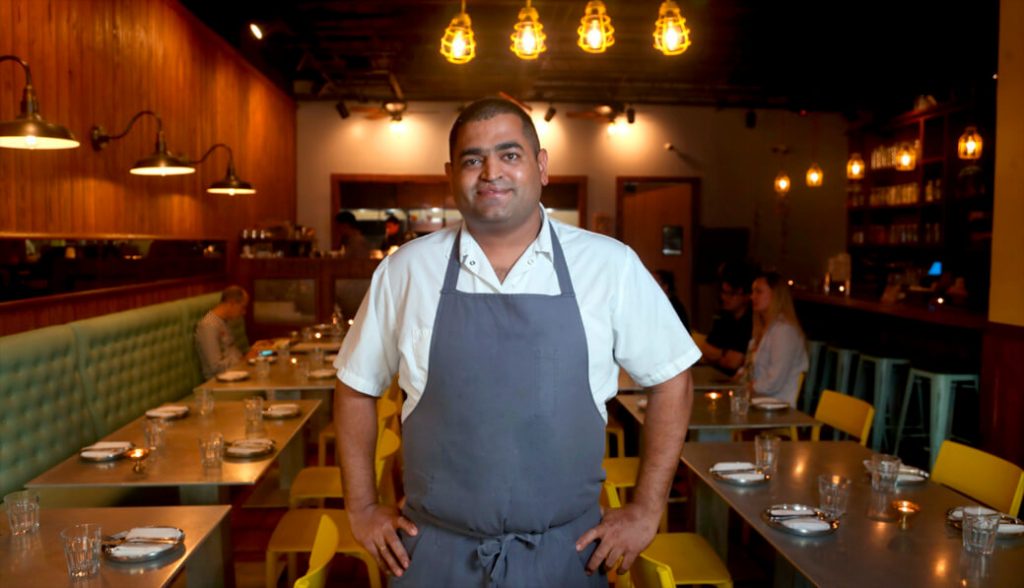 What is it? James Beard Award nominee Niven Patel propelled Indian cuisine in the city with the opening of his restaurant Dadeland. The chef grows some of the produce and herbs he serves at Ghee on his Homestead farm.
Why go? Unlike the reheated and failed curries often found in Miami, the meals prepared at Ghee are an explosion of fresh flavors. The cheddar naan with green millet that Patel brings from a small village in India, and the smoked lamb are, without a doubt, two of the star dishes.
9. 27 Restaurant & Bar at Freehand Miami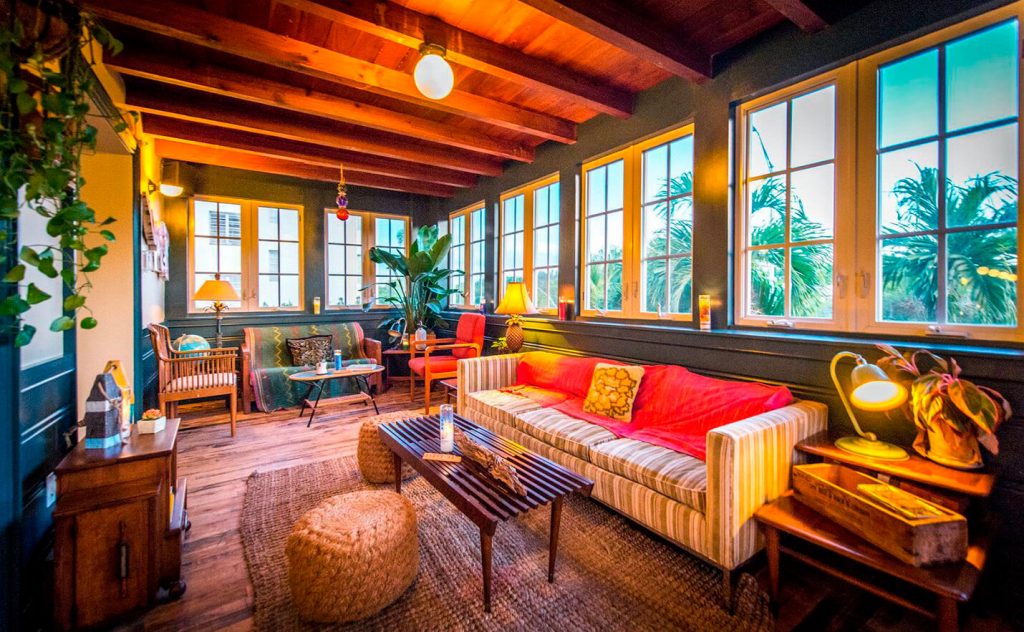 What is it? A homey two-level restaurant located inside an old art deco house, serving globally inspired dishes made with fresh ingredients from local farms.
Why go? Hipster home cooking is all the rage here: family recipes with unexpected ingredients and portions to share. The kimchi fried rice is a must-try at brunch or dinner, while the arepa plate is the king of starters. Of course, you can't leave without trying a cocktail made by the famous Bar Lab team.
10. Alter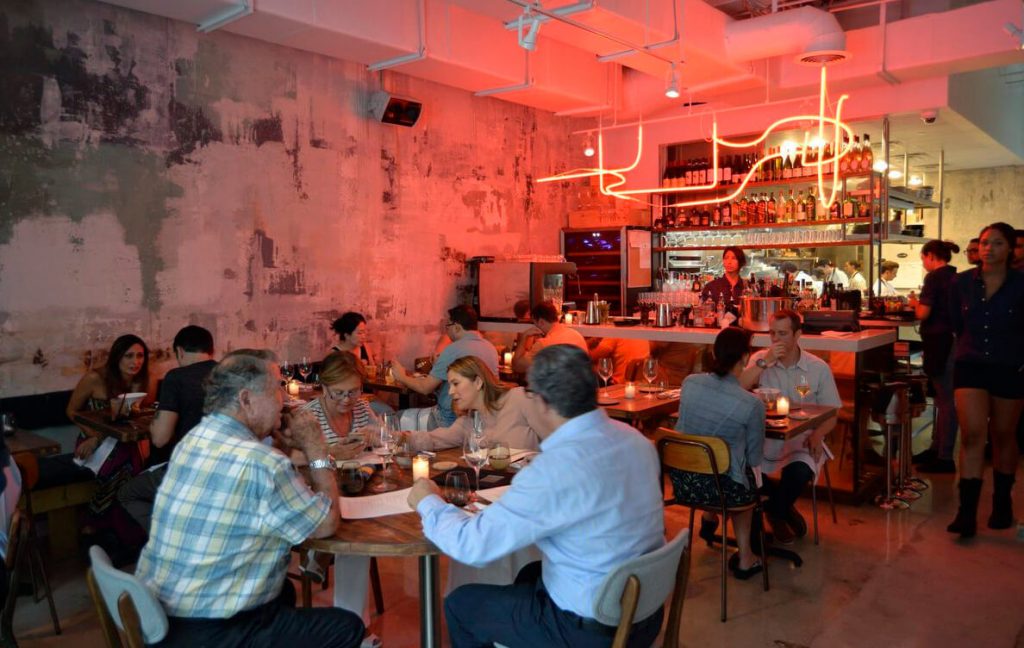 What is it? Chef Brad Kilgore runs this modern, minimalist restaurant in Wynwood. A three-time James Beards Award nominee, Kilgore took his previous fine dining experiences and channeled them into the delicious, refined American cuisine that he and partners Javier Ramirez and Leo Monterrey implemented at Alter.
Why go? This progressive menu is a delight from start to finish. There's a $65 tasting menu for those who need a little guidance, but ordering a la carte works too: just be sure to order the warm egg Kilgore prepares with scallop foam, chives, truffle pearls, and gruyere cheese. Rest assured that people around you will want to ask you about your experience.
The Best Restaurants in Miami FAQ
Q: What are some of the best restaurants in Miami?
A: Miami has a diverse and vibrant restaurant scene, but some of the best restaurants include KYU, Joe's Stone Crab, Yardbird Southern Table & Bar, The Bazaar by José Andrés, and Versailles.
Q: What kind of cuisine can be found in Miami restaurants?
A: Miami offers a wide range of cuisine options, including Cuban, Latin American, seafood, fusion, and international cuisine. Many restaurants also offer vegetarian and vegan options.
Q: Are there any fine dining restaurants in Miami?
A: Yes, Miami has several fine dining restaurants, such as Azul at the Mandarin Oriental, Miami, Palme d'Or at the Biltmore Hotel, and Komodo.
Q: Are there any waterfront restaurants in Miami?
A: Yes, Miami has several waterfront restaurants with stunning views, such as Garcia's Seafood Grille & Fish Market, Rusty Pelican, and Seaspice.
Q: Are there any famous restaurants in Miami?
A: Yes, Miami has several famous restaurants, such as Joe's Stone Crab, which has been serving its signature stone crabs since 1913, and Versailles, a Cuban restaurant that has been a Miami institution since 1971.
Q: Are there any budget-friendly restaurants in Miami?
A: Yes, there are several budget-friendly restaurants in Miami, such as La Camaronera Fish Market, Tacos & Tattoos, and Mignonette.
Q: Are there any restaurants in Miami with a dress code?
A: Some Miami restaurants may have dress codes, especially those with a more upscale or formal atmosphere. It is best to check with each restaurant directly to see their dress code policies.
A: Many Miami restaurants offer special menus and deals, such as happy hour specials, prix fixe menus, and seasonal dishes. It is best to check with each restaurant directly to see their current offers.
Last Updated on March 29, 2023 by Viktoria