In this article you will find a list of the best beaches in Miami with detailed information about each one of them. We have also prepared an interactive map so you can easily locate them. You will see that each beach is different, some are family oriented, much safer for young children. There are festive beaches, perfect to go with your group of friends… There are also beaches where you can go with your dog. Whatever type of beach you prefer, we are sure that in the list you will find your ideal beach. Shall we start?
Best Miami Beaches
SOUTH BEACH
LUMMUS PARK BEACH
SOUTH POINTE PARK
MID-BEACH
NORTH MIAMI BEACH
BILL BAGGS PARK, KEY BISCAYNE
HAULOVER BEACH
CRANDON PARK
SUNNY ISLES BEACH
VIRGINIA KEY BEACH
1. SOUTH BEACH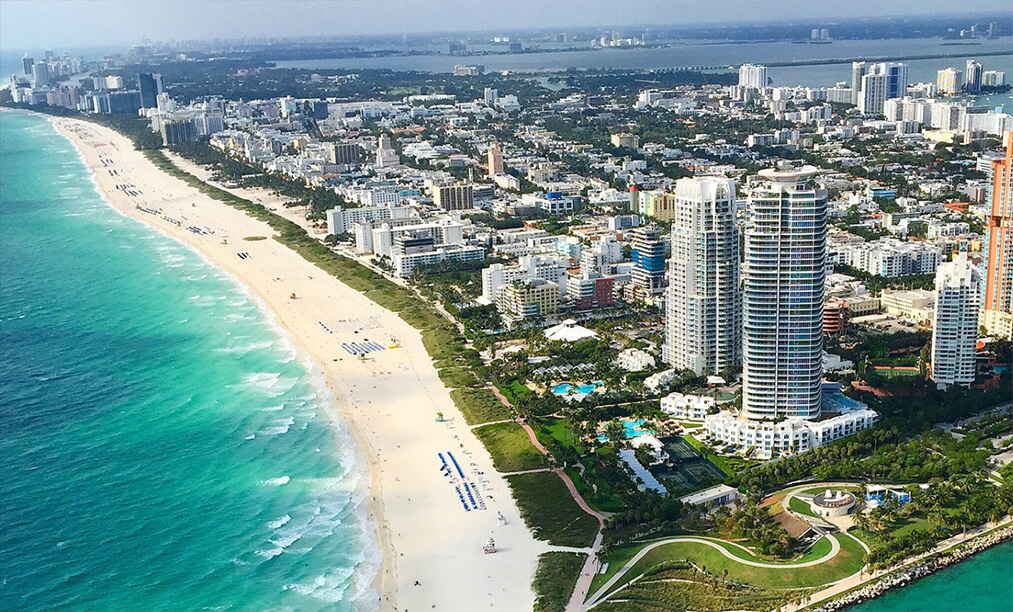 South Beach is probably the most famous beach in Miami Beach. It is the place where people go to see or show off their sculptural bodies (remember that swimsuits are not optional, although topless is allowed). South Beach is the beach we have seen in the movies and is located on Ocean Drive, across the street from the most crowded clubs and discos in Miami Beach. In South Beach you will find a lot of services to spend the day with your family, friends or couple.
It is important to know that it is necessary to pay for parking, which is expensive and sometimes difficult to find. In reality, South Beach is made up of South Pointe Park (to the south) and Lummus Park Beach, two beaches with specific characteristics. Below you will find more information about each of them.
2. LUMMUS PARK BEACH, SOUTH BEACH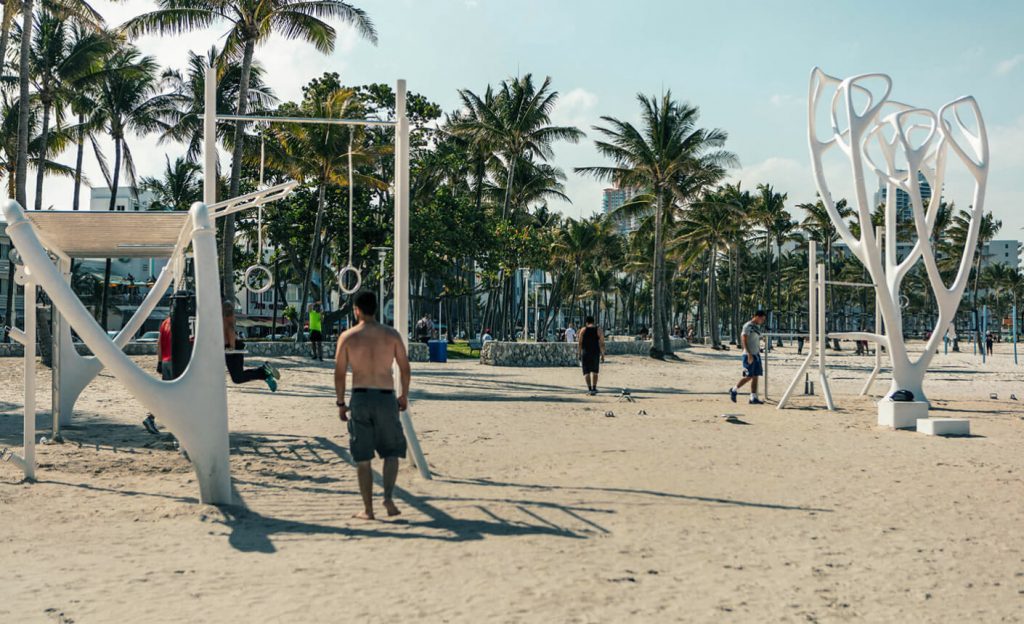 Volleyball players, lifeguards, people walking, skaters, topless tourists? It is the busiest area of South Beach and the one we have seen countless times on television. Lummus Park, a beachfront park, is one of the most popular destinations in Miami and a must-see for any tourist. There are public restrooms and paved walking and biking trails, but the main amenity is the beach itself, with clear turquoise waters and beautiful tall palm trees. Lummus is within walking distance of Ocean Drive, an avenue lined with restaurants, cafes and stores. Here you will find the famous lifeguard booths. Don't forget to take a picture of these typical beach huts: on 14th Street you will find one with a circular roof. In the area there is a gay beach, located on 12th street.
3. SOUTH POINTE PARK, SOUTH BEACH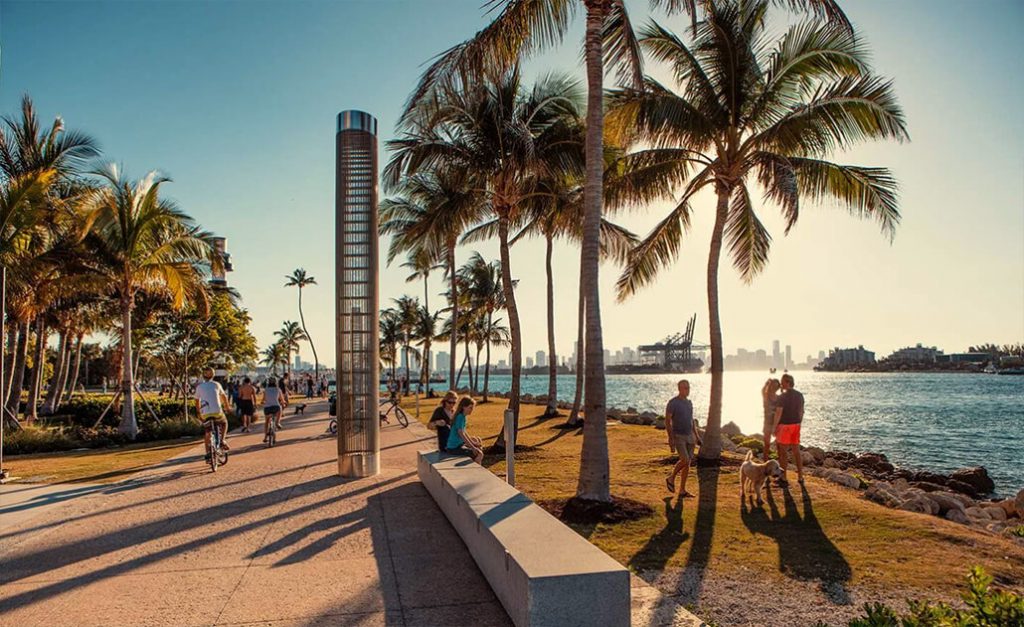 This beach is located at the southern end of Miami Beach and is part of an extensive park full of vegetation with several picnic areas, a playground and a fishing pier. On one side of the park is this beach of transparent waters from where you can watch an excellent sunset. It has showers and it is not difficult to park nearby. Unlike the bustling beaches further north, this is an ideal beach to relax in the midst of the busy life of Miami's South Beach.
4. MID-BEACH (BETWEEN 23RD AND 46TH STREETS)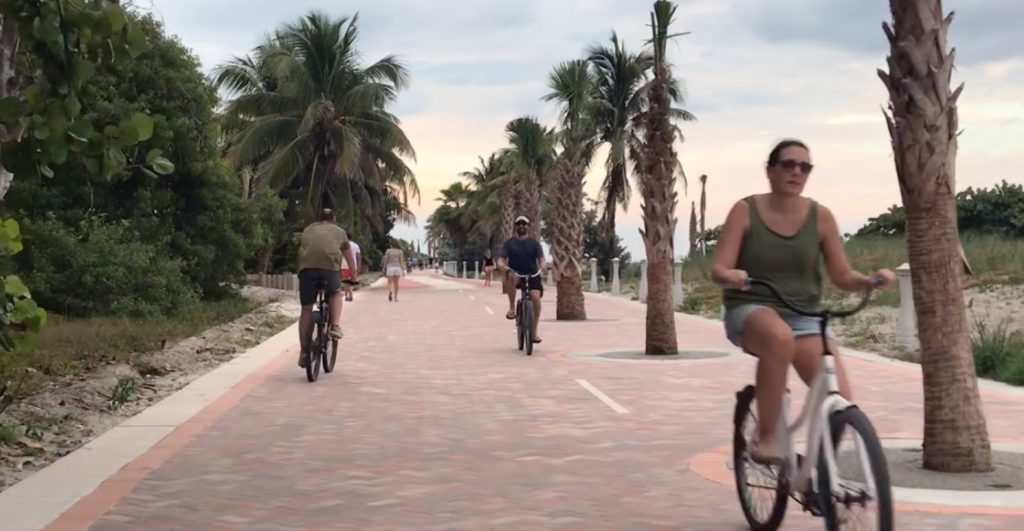 The stretch of sand located between 23rd Street and 45th Street is a fairly quiet place, with fewer beach huts and beach bars. It also serves as a backdrop for some of the area's most luxurious hotels and exclusive beach clubs. The Miami Beach Broadwalk runs through the area, becoming a paved surface as it heads south along 23rd Street, so it is always full of joggers and rollerbladers.
5. NORTH MIAMI BEACH (FROM 46TH TO 63RD STREET)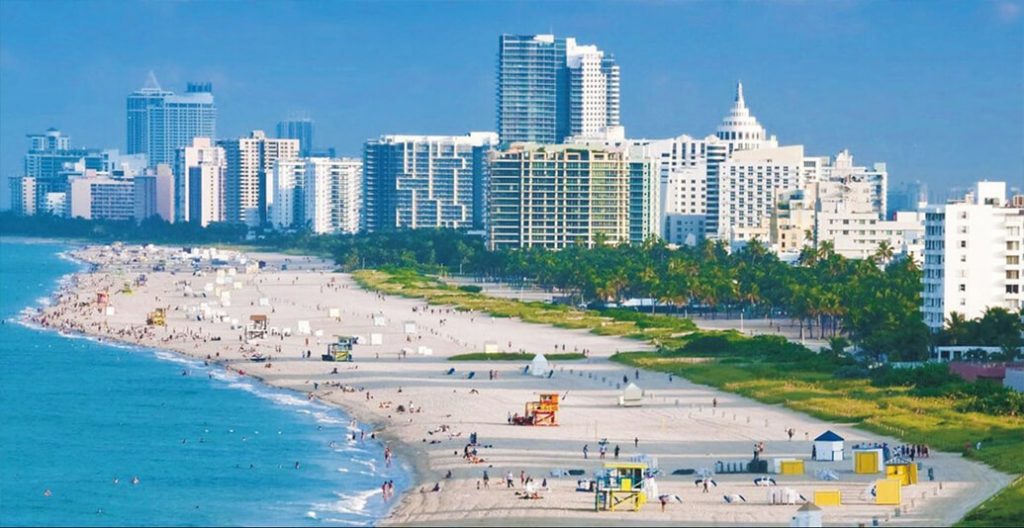 A very nice beach, less crowded and with a very familiar public. The negative part? The beach is not very wide and the buildings of the big hotels of the Golden Age of Miami Beach, it seems to be thrown on top of you. It is easier to find parking here than in South Beach, but perhaps the beach is not as beautiful as in the southern part.
6. BILL BAGGS PARK, KEY BISCAYNE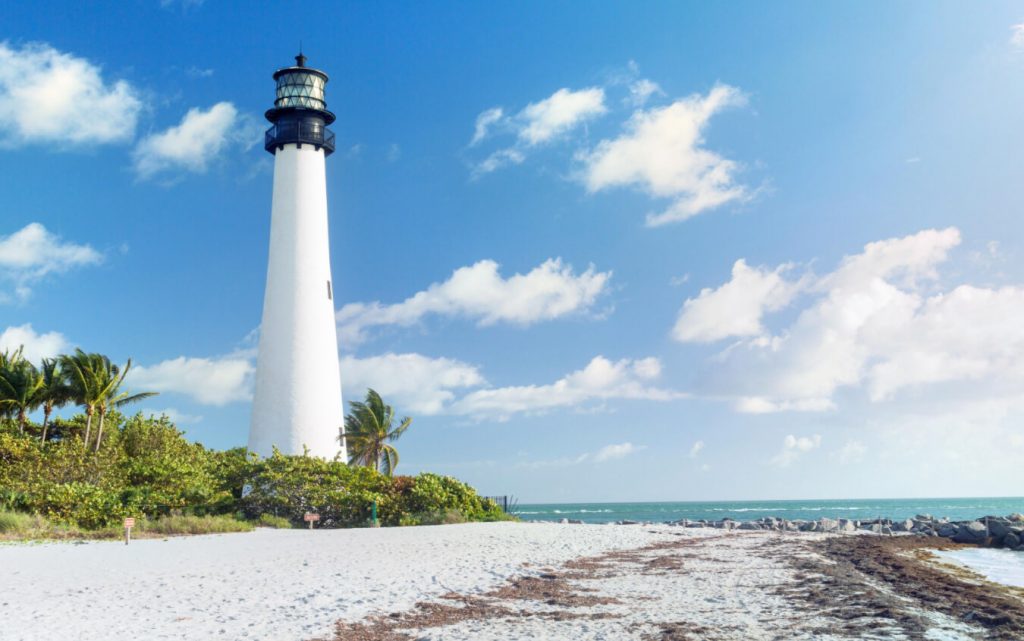 Bill Baggs Beach is located at the southern end of Key Biscayne, where the famous Cape Florida Lighthouse is located. Bill Baggs Park is a great place for swimming, sunbathing, beachcombing and surfing.
If water activities are not your thing, you have the option of taking a guided tour of the Bill Baggs Lighthouse or fishing off the breakwater. It is a beach where the traveler can swim in its blue waters and stroll to contemplate the wonderful views of the sea.
On the beaches of Key Biscayne you will find plenty of services such as restaurants, bars, beach bars, sun lounger rental, showers … It is a spacious beach, ideal for those travelers looking for quiet beaches and less crowded than those found closer to Miami.
7. HAULOVER BEACH (MIAMI'S NUSITA BEACH)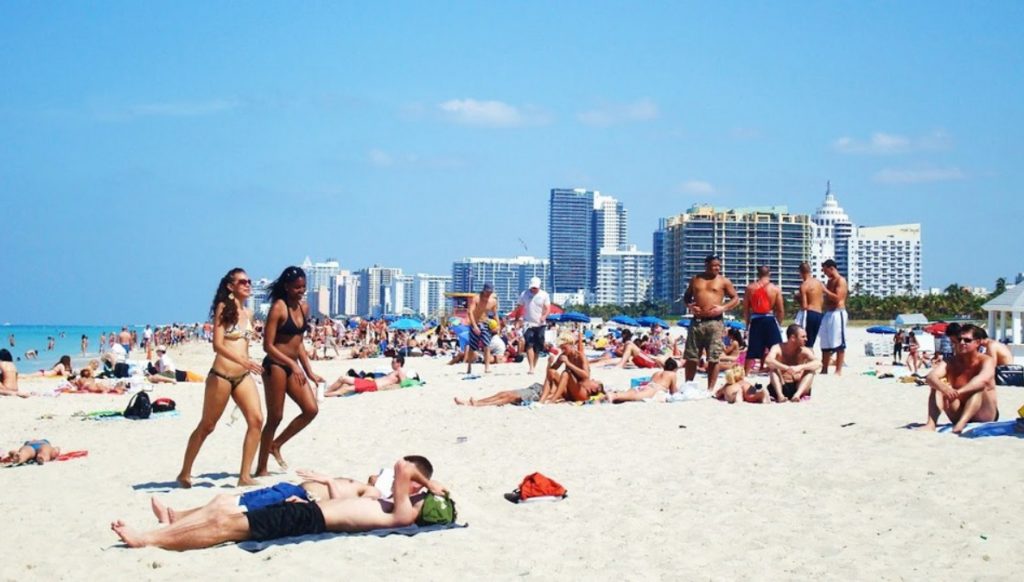 Haulover Beach is located in Miami Beach, between Sunny Isles Beach and Bal Harbour.
This beach is known worldwide as the only legal nude beach in Miami (it should be noted that only the northern part of the beach is nude). Haulover Beach is a fantastic place for surfing and enjoys a host of activities available to tourists: tennis courts, kite flying areas, golf, etc..
Like many other beaches, it is necessary to pay for car parking.
8. CRANDON PARK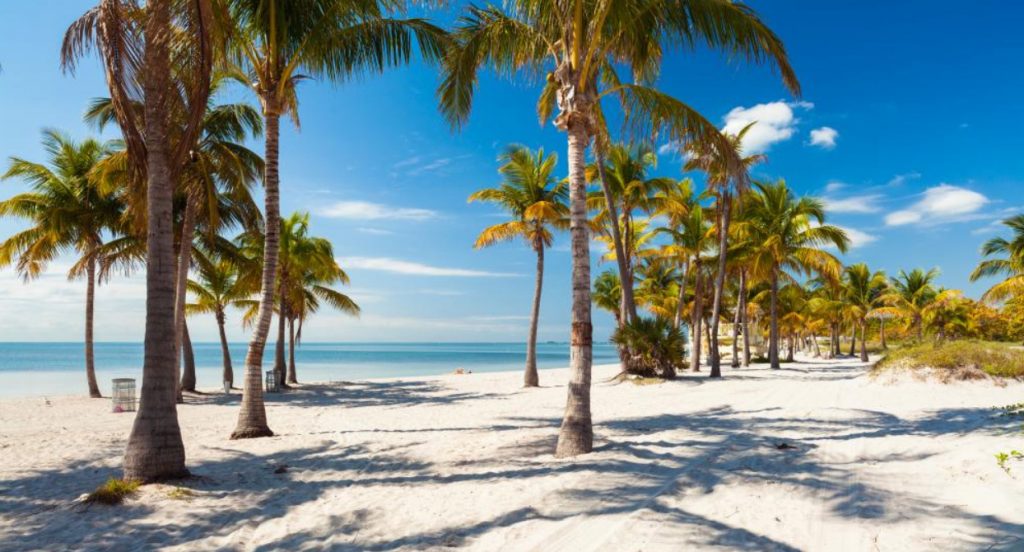 This Miami beach is one of the best to go with the whole family and enjoy a day at sea with the kids. The beach is characterized for being quite flat, that is to say, one has to walk a long way to reach the deepest part of the beach.
In addition, on the seashore, the traveler can lie under the characteristic palm trees of Miami, while relaxing quietly listening to the sea breeze. Crandon Park, although not a very crowded beach, has all kinds of services in its vicinity: restaurants, bars, showers…. It is an ideal place to spend the day.
9. SUNNY ISLES BEACH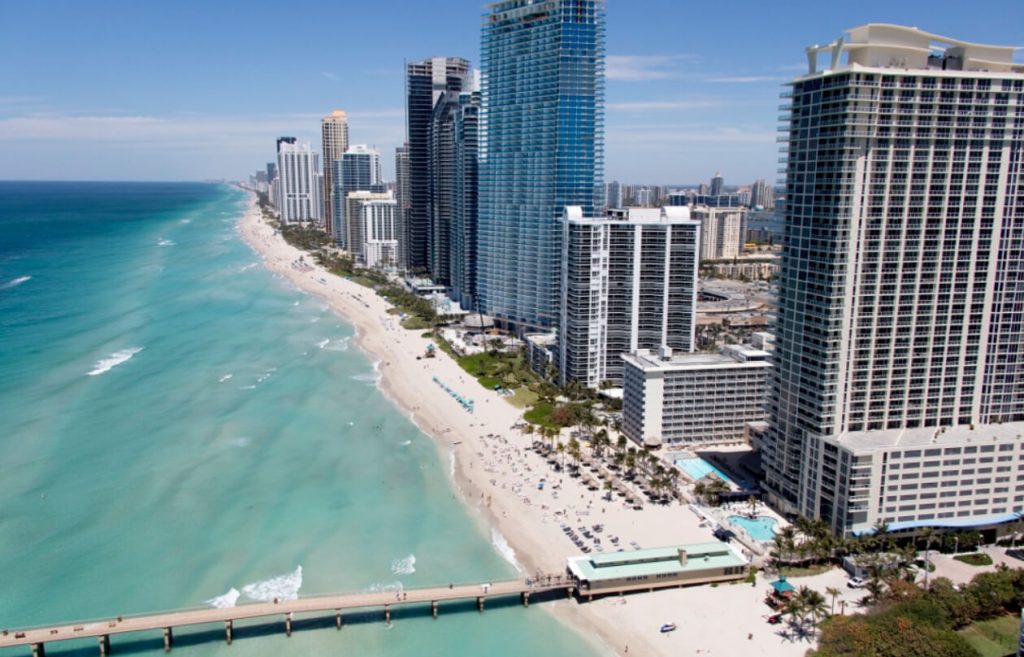 Beyond Haulover Beach Park is Sunny Isles Beach, two kilometers of public beach: with souvenir stores and hotels. American retirees occupied this place, but in an effort to change its reputation forever, the place has recently undergone a boom of luxury beachside condominiums. Today, Sunny Isles Beach is more like the mid-Miami Beach area than the low-rent retirement community it was from World War II until just a few years ago.
10. VIRGINIA KEY BEACH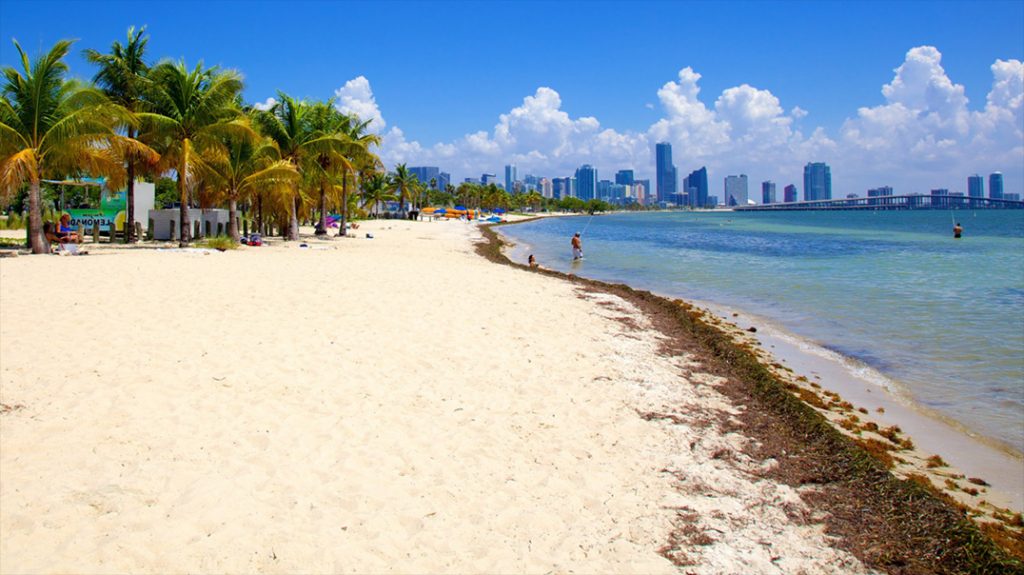 Virginia Key Beach is one of the most interesting beaches in South Florida. It is located off Rickenbacker Causeway, near the Miami Aquarium (Miami SeaAquarium). Its good location has made it one of the most frequented coastal areas by tourists and Miami's own inhabitants, a fact that does not detract from its particular charm.
If you want to avoid the crowds on the beach, you will have to walk a little, and very close you will begin to find places and quieter areas away from the crowds. In the southern area dogs are allowed (leashed). In the north area is a place where windsurfing is practiced.
In this beach you can also find any kind of service such as restaurants, beach bars, showers, sun loungers for rent…
Miami Interactive Map
Last Updated on January 5, 2022 by Viktoria