Although summer is a favorable season to enjoy the water parks, in South Florida, they are a great attraction because they are open practically all year round. Water slides and waterfalls are the most fun attractions for all ages. Here are the five best water parks in Miami-Dade County.
Best Water Parks in Florida
VENETIAN POOL
GRAPELAND WATER PARK
SPLASH'N PLAY
BUCKY DENT AQUATIC
TOWN OF SURFSIDE COMMUNITY CENTER
VENETIAN POOL, THE ONLY POOL LISTED AS HISTORIC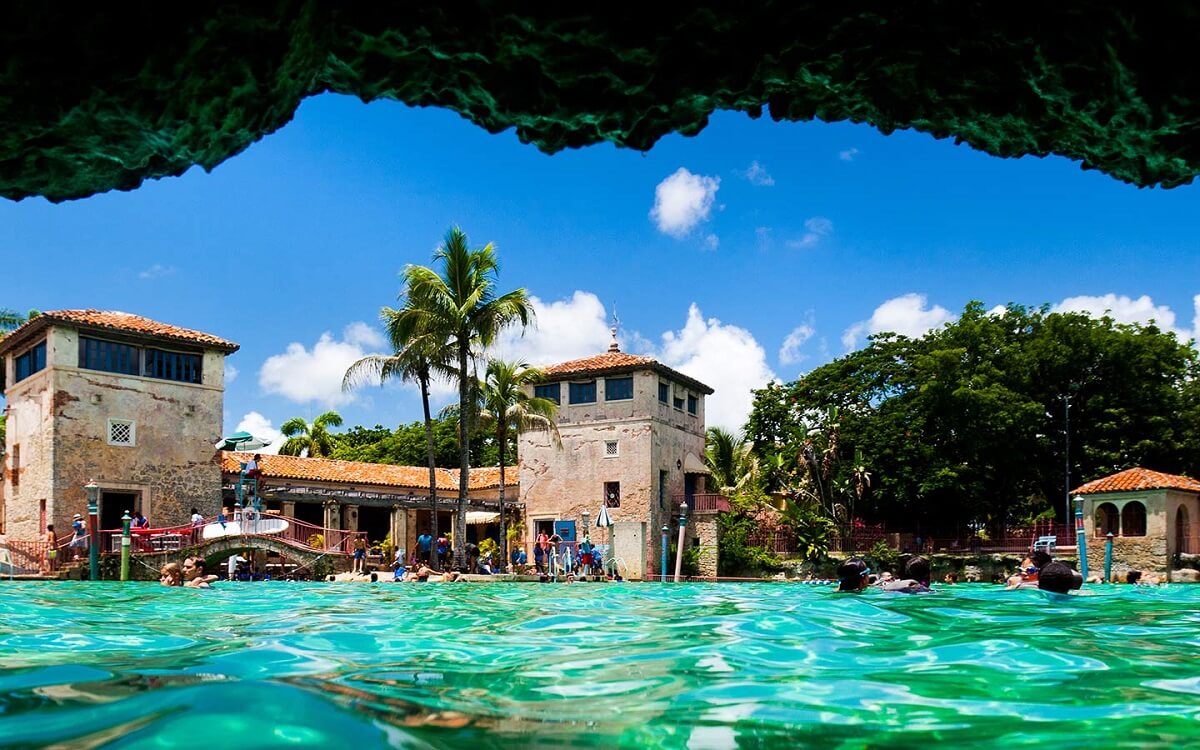 It is the only water park listed on the National Register of Historic Places. Venetian Pool, a pool created from coral rock in 1924 that was once a quarry, is a true oasis of Mediterranean-inspired architecture that is visited by hundreds of thousands of tourists and South Florida residents. In fact, it is one of the main tourist attractions in the city of Coral Gables. The pool contains 820,000 gallons of fresh spring water from a subway aquifer. It also features two historic observation towers overlooking the beautiful city of Coral Gables; two waterfalls that provide a scenic backdrop and grottoes to explore.
In addition, it has a Mediterranean architectural structure with porticoes, arches, bridges, and palm trees. It is surrounded by trees and forms a small village that transports you directly to the Mediterranean. It has always been a meeting point for the residents of the city. The history of this place is reflected in a photographic exhibition at the same entrance. During the week it opens at 11 a.m. and closes at 5:30 p.m. and on weekends, from 10 a.m. to 4:30 p.m. It is closed on national holidays. It's such a popular pool that it's best to arrive early because it closes once it reaches capacity, especially on weekends.
GRAPELAND WATER PARK NEAR MIAMI AIRPORT
This water park belonging to the Miami-Dade Public Parks Department is located next to the Miami International Airport and has four separate attractions including a lazy river, a swimming pool, the Pirates Plunge area for the big kids, and the Shipwreck area for the little ones. The latter two play areas have slides, water cannons, and fountains to play in. Life jackets are free and available throughout the park.
It is ideal because there are many sun loungers under large umbrellas and you can move them under the palm trees. There are tables and an area reserved for parties. If you decide not to bring food from home, there are many places to choose from and a main area where you can find chicken, pizzas, hot dogs, small sandwiches, ice cream, and soft drinks, among others. Around the pools, there are food carts. Admission is $12 for adults and $7 for children ages 2 to 13, free for children 1-year-old and under.
SPLASH'N PLAY AT PINECREST GARDENS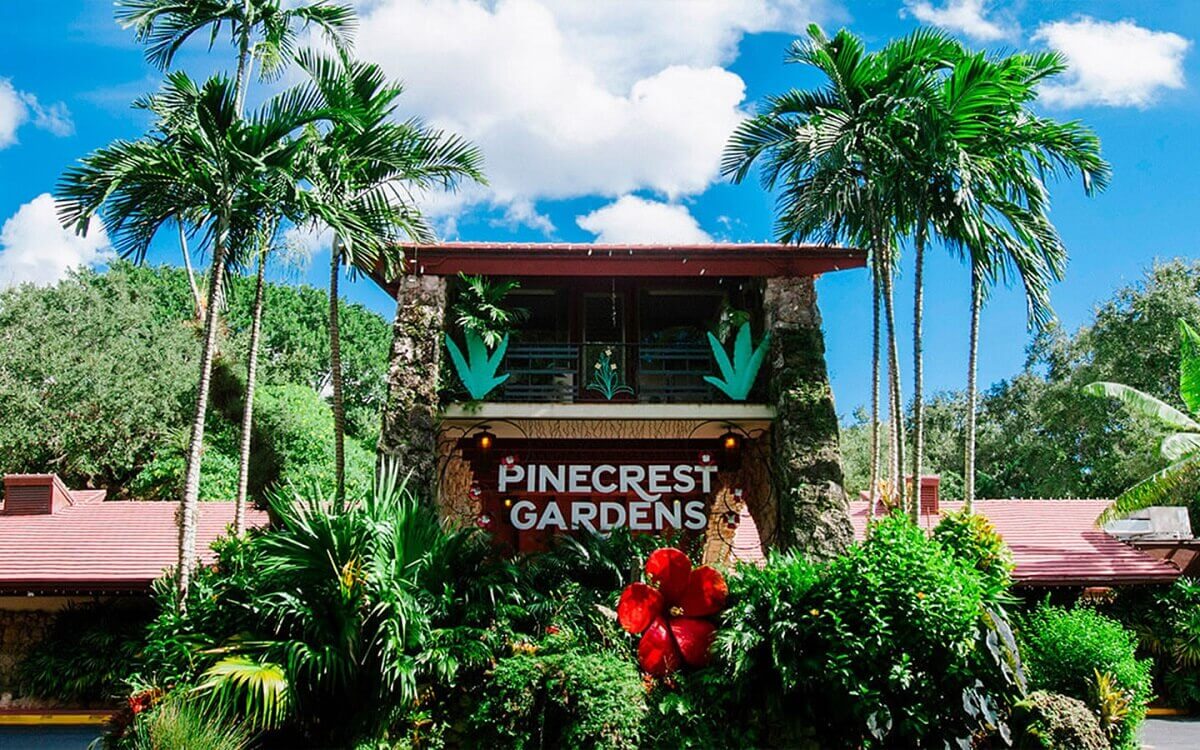 This water park, free with admission to Pinecrest Gardens, is ideal for children up to 5 years of age, although it can be enjoyed by children up to 12 years of age. The Splash' N Play area offers a safe space for the little ones because it is surrounded by lush foliage, which allows the child to always be in control. There are waterfalls in the shape of mushrooms and flowers that spurt water. There are also fun jumping fountains. This area is open from 10 a.m. to 5 p.m. Pinecrest Gardens offers many other spaces to spend the day such as the various fish ponds and areas to play chess and checkers, with 25-inch-high pieces in the garden. You can see swans moving around the lake and meet the farm animals in the petting zoo. It's also a great place to enjoy a picnic before heading out to explore the property, a very interesting place with its own unique history.
BUCKY DENT AQUATIC AT HIALEAH GARDENS
This aquatic center, located in Bucky Dent Park, is a 25-acre facility containing a recreation center building and a lighted softball complex with 4 fields. The Bucky Dent Aquatic Center has 3 swimming pools, a soccer field, a playground, a combination youth center and fitness center with an arts and crafts room, and a multi-purpose recreation room. There is an activity pool with a slide and two more twin slides. There is another shallow pool at the entrance. This water park is only open on weekends.
TOWN OF SURFSIDE COMMUNITY CENTER, ON THE BEACH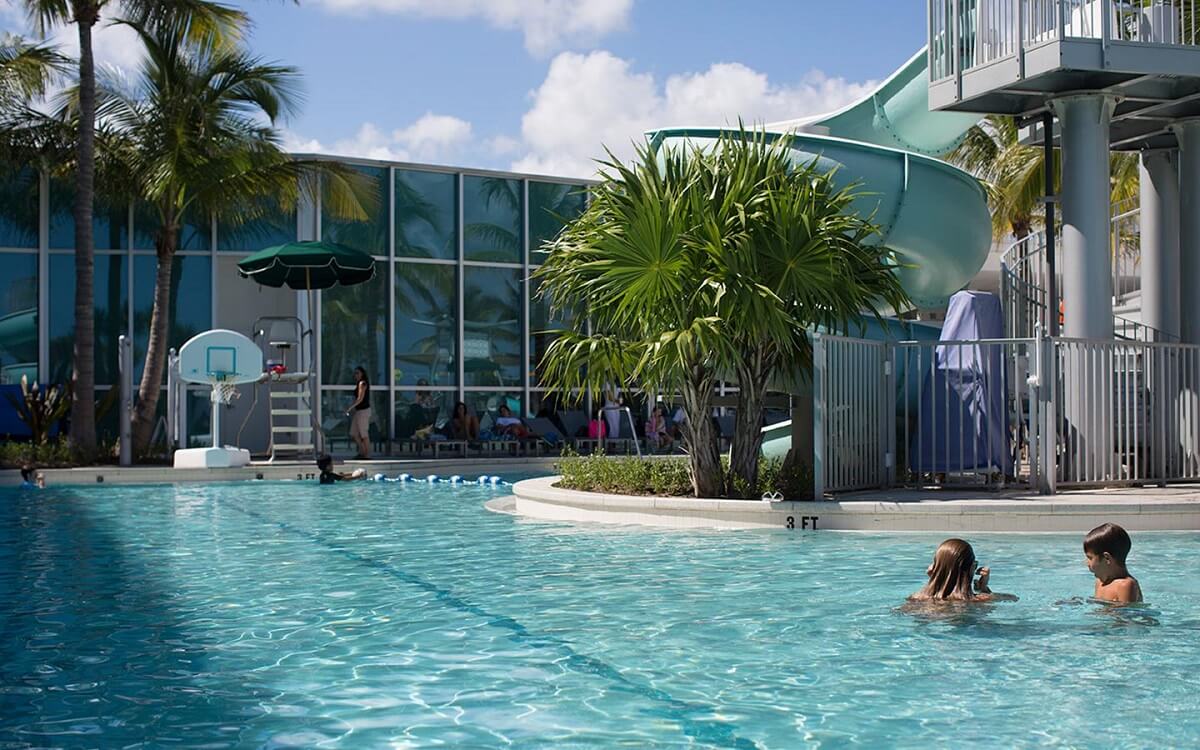 The recreational pool at this Parks and Recreation Department facility has lanes and slides. It is also a children's activity pool and has a Jacuzzi. The center has two multi-purpose rooms to accommodate different programs for all ages. This facility is equipped with locker rooms, family restrooms, and a first aid station. There is a green space, perfect for parties, birthdays, and community events. It has a bar and grill. It is open Monday through Friday, 9 a.m. to 6 p.m.
Last Updated on January 27, 2023 by Viktoria